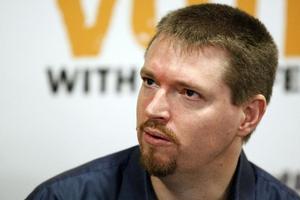 The organisers of an Auckland protest against the anti-smacking legislation are threatening to take their march to other cities, but say their next step will be determined by Prime Minister John Key.
The crowd gathered in Queen St on Saturday for the hour-long "March for Democracy" to protest against the Government's refusal to back a $9 million referendum that asked New Zealanders if smacking should be illegal.
Eighty-seven per cent of people who voted said it should not, but the law removing the right of a parent to use "reasonable force" to correct a child - which was controversially changed more than two years ago - has not been reversed.
Organiser Colin Craig, who funded the march, said a letter had been posted yesterday asking Mr Key to meet the group to discuss an immediate change in the anti-smacking legislation "so that a parent correcting a child with a light smack will not be committing a criminal offence".
The Prime Minister's response would determine how far protests would go, Mr Craig said.
"We're looking to meet with John Key and put the marchers' demands to him, so that's what we've requested. We're looking for him to come back and say: 'Yes, and here's a suitable time.' Obviously there's a lot of interest for that.
"To get thousands of people to give up half a day to express their view and march shows just how strong the feeling is among New Zealanders that they want to see politicians deliver what the people ask for. It's time to honour the citizens and do what the people want. If the Government refuses to dialogue on this issue, then we will be accepting invitations from centres throughout New Zealand who have asked for a locally based march. We are willing to take this campaign through to the general election in 2011 if that is what is required.
"[But] we need to wait and see what John Key's going to say and that's the appropriate next step. Beyond that, we can't say at this stage.
"I think in a few days from now we'll know what's developing."
Bob McCoskrie of Family First NZ, a lobby group which does not believe parents should be convicted for lightly smacking their children, said: "At a march against the Electoral Finance Bill when John Key was Leader of the Opposition, he sent a note to the marchers which said: 'I will listen to what people like you, and many thousands of others are saying. You are fighting for the most important principle. You are fighting for democracy.'"
Another marcher, Steve Baron of Better Democracy NZ, congratulated all those who participated in the march. "They are the gladiators of society, the 6-8 per cent of New Zealanders who get politically involved and get off their backsides in an attempt to make a difference", he said.
"They will eventually triumph over the elitists in society who believe they always know what is best for the ignorant masses", said Mr Baron.
Better Democracy NZ are proponents of binding referendums.
A 50-year-old man was arrested and charged with disorderly behaviour and resisting arrest after allegedly attempting to rush at speakers at the end of the march.
- additional reporting by nzherald staff