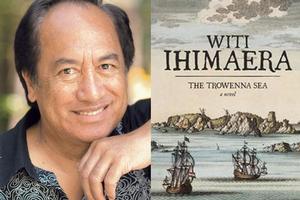 Iconic New Zealand writer Witi Ihimaera has admitted that his latest novel includes plagiarised material.
Ihimaera's new novel, The Torwenna Sea, is set in Tasmania during the 1840s and details the lives of Maori transported to the island off Australia as convicts.
But the novel contains passages re-printed without acknowledgement from a number of writers.
The author of the Whale Rider said he has tried to track down all the authors through his publisher Penguin New Zealand.
Penguin publishing director Geoff Walker refused to say what parts of the novel had not been attributed.
"You'll have to read the Listener. You do your research and read the Listener. With all due respect what I have said is our stated position," Mr Walker said.
He also declined to ask questions about how the plagiarism was identified.
"I don't have a great deal to say," Mr Walker said.
Mr Walker said the book would not be withdrawn from sale and the publisher was standing by the novel.
In a written statement, Ihimaera has apologised for not attributing the material.
"I am deeply sorry and take full responsibility for this oversight," Mr Ihimaera said.
He said of the 528 page novel, less than 0.4 per cent had been published without acknowledgement.
"The authors I have managed to contact understand how it occurred and have accepted my apologies. The passages in question will be fully acknowledged in a future edition of the book," Ihimaera said.
Ihimaera is also a Professor of English and is a Distinguished Creative Fellow in Maori Literature at the University of Auckland.
Dean of Arts, Associate Professor Jan Crosthwaite, said the plagiarism has been investigated by the university and said there was no deliberate wrong-doing.
"Though the amount of non-attributed material may seem insignificant, any failure to acknowledge the work of others is most regrettable and is of concern to the University," Dr Crosthwaite said.
"I have been assured by Professor Ihimaera that he has taken speedy steps to remedy his unfortunate oversight," she said.
- NZHERALD STAFF