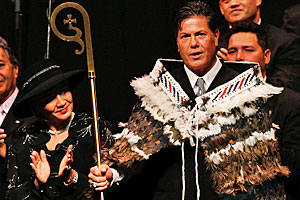 The maker of TVNZ's new show The Cult has spoken of eerie similarities between comments made by the charismatic leader in the show and Destiny Church's Bishop Brian Tamaki.
Both crowned themselves spiritual fathers, required a pledge of allegiance, and even the names drew parallels, said The Cult's series executive producer Phil Smith.
But Smith said the "jaw dropping" moment was watching Campbell Live's secretly recorded footage of Tamaki giving a sermon to a gathering called MoMENtum - the same name as the cult on the television show.
Last Tuesday the fictional show had a speech from cult leader Ed North warning of the outside world.
"Now we must fight them," he preached. "People on the outside cannot touch us."
Smith said only two days later, Tamaki's words almost echoed those from North.
One of the stated aims of Destiny's gathering was to "raise men, fit for war".
Tamaki's sermon continued: "Who is going to touch my people?"
Janine Cardno, media spokesperson for Destiny Church, said the church was not a cult. "Obviously we are not. We are no different from anyone else whether it's Catholics, Protestants, or whatever. The fundamentals are the same."
- HERALD ON SUNDAY