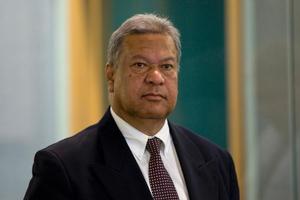 Tears flowed when disgraced former MP Taito Phillip Field was today sentenced to six years in jail, with his lawyer saying he could not rule out an appeal.
Field, 57, stood in the High Court at Auckland dock clutching a bible as he became the first MP to be jailed for bribery, corruption and perverting the course of justice.
His lawyer Paul Davison , QC, told reporters six years was "a tough penalty for someone like Mr Field", who was an MP for 12 years, for Labour then as an independent.
The sentence was longer than he thought appropriate, Mr Davidson said.
"The issue of appeal hasn't been decided, but it's certainly something which is receiving some consideration."
Field's wife Maxine said she was heartbroken.
Her husband told her this morning that whatever happened, she had to look up to the Lord and be strong.
"I'll be OK. We'll be OK. God will take care of us. We are so heartbroken because all this is happening after the tsunami in Samoa," she said, still protesting her husband's innocence.
"I'm very sad. There was no intention at all," she said.
Justice Rodney Hansen sentenced Field to four years in prison on the bribery and corruption charges and two years on the charges of attempting to pervert the course of justice.
The sentences were to be served cumulatively.
In August, a jury found the former Mangere MP guilty of 26 of the 35 criminal charges he faced, ending a 15-week trial.
He was found guilty of 11 of 12 charges of bribery and corruption after getting Thai nationals to carry out work on his properties in Auckland and Samoa in return for immigration assistance between November 2002 and October 2005.
He was also found guilty of 15 of 23 charges of wilfully attempting to obstruct or pervert the course of justice relating to evidence he gave to a Government-ordered inquiry by Noel Ingram, QC, into his conduct.
In 2002, he had become a minister outside Cabinet when made Parliamentary undersecretary for Pacific Island Affairs, Ministry of Justice, and Ministry of Social Development and Employment.
Field failed to accept responsibility and abused his position of power, the Crown said.
But Mr Davison said Field had accepted the jury's verdict and had expressed remorse.
Papali'i Titi Uatoa Maliletoa, elder of the Samoan community, and Aso Saleopolu, senior church minister, both gave character statements in support of Field.
Justice Hansen was given 89 written testimonials from Field supporters.
Justice Hansen said the jury must have accepted that Field knew he was accepting free work on his homes from grateful Thai tradesmen, in return for immigration help.
"You saw the results, you must have known that their willing assistance was saving you tens of thousands of dollars," Justice Hansen said.
"In my view you quite consciously used their adulations of you for your private gain."
Justice Hansen also said the jury must have found Field was trying to avoid justice when making and arranging for false information to be given to the Ingram Inquiry.
Speaking outside the court, Crown prosecutor Simon Moore said the sentence was a very careful judgement by a judge who sat through weeks of evidence.
"This was a very exhausting case, from day one right through to the very end," Mr Moore said.
Mr Saleopolu, a senior church minister, said Mr Field was a very strong person.
"He's very strong in heart and he's a very robust person.
"I don't know the details of the charges so I can't say whether or not I think Mr Field is innocent .
"All I can say is that some of the actions he did came out of his heart as a Samoan and being brought up in the Samoan culture."
A Maori elder was ordered out of court today after challenging the sentence.
- NZPA