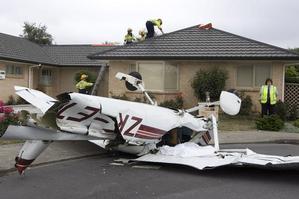 A fatal aircraft collision north of Wellington might have been prevented if a safety recommendation made 12 years earlier had been put in place, the chief crash investigator says.
A helicopter flown by student James David Taylor, 19, with experienced rescue pilot David Fielding, 30, as his instructor, and a Cessna piloted by Bevan Andrew Hookway, 17, collided over Paraparaumu on February 17 last year, killing all three.
The helicopter fell through the roof of Paraparaumu's Placemakers, just missing staff and customers, while the plane's fuselage landed about 250m away in Dennis Taylor Court, and its engine crashed through a house roof.
A report released today by the Transport Accident Investigation Commission said the airport's parallel runways made mid-air collisions a "well recognised" risk.
A 1996 safety review by the Civil Aviation Authority (CAA) identified "numerous safety issues" and made recommendations including changes to the takeoff and landing procedure known as overhead joining.
The recommendation was not actioned.
"The reason for this could not be confirmed but was considered by the CAA to have been a decision by the then Director of Civil Aviation to allow the status quo to continue," the report said.
Both pilots had only recently taken up flying but were competent, responsible students.
In a statement issued to media, the family of Mr Fielding, who worked as the base manager for the Palmerston North Square Trust rescue helicopter, said the CAA failed to do its job properly and ensure the safety of pilots flying in the Paraparaumu area.
- NZPA