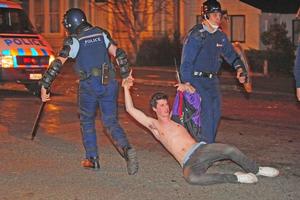 Police have charged 67 people in relation to the rioting that followed the Undie 500 rally in Dunedin at the weekend.
The charges included breaching the temporary liquor ban, disorderly behaviour, obstruction and wilfully setting fire to property, southern police communications manager Vivien Puller said.
Three of those charged were to appear in Dunedin District Court tomorrow, while the others would appear on Thursday and Friday.
Police were called out to disperse mobs of about 600 drunken students gathering on Friday and Saturday nights on Castle St following the annual event, involving a pub crawl from Christchurch to Dunedin in cars worth under $500, organised by Canterbury Engineering students.
Inspector Dave Campbell said members of the mob pelted police with bottles, bricks and bicycle parts and burned furniture on the street.
"I think the Canterbury student leaders are showing arrogance and selfishness.
We've told them they aren't welcome, the mayor's told them they aren't welcome, but they insist on coming," he said.
Police at one stage ran out of pepper spray subduing drunken young people.
"Fortunately, we still had another carton (of pepper spray) back at the station, so we got that to the front line troops and kept on using it."
The violence was simply a result of a large group of young people getting drunk who had nothing better to do, he said.
"We thought it would be better this year, with the blanket no-diversion policy and the North Dunedin-wide alcohol ban and the publicity we'd put through the student's Critic magazine. We were really hopeful behaviour would be improved."
Mr Campbell said part of the problem was the expectation surrounding the event, with some Otago students feeling they needed to "show off".
Prime Minister John Key called the incident "madness", saying some students were likely to graduate with criminal convictions, which was a "waste of their futures".
Those participating in the event were warned by police diversion would be opposed in court, and Mr Key said he agreed with that stance.
- NZPA