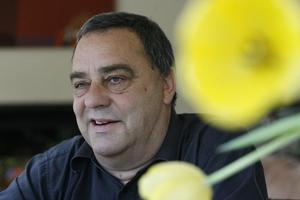 Former Labour Party president Mike Williams has been appointed chief executive of the anti-P Stellar Trust.
The charity, which campaigns to raise awareness of the dangers of methamphetamine, has also appointed broadcaster Paul Holmes as its official ambassador.
Mr Williams said he had seen how the drug affected his old friend Holmes, whose daughter Millie has been addicted to P for years.
"I've seen what that drug has done to his family. It has literally torn it apart.
"I believe there's several hundred Millies out there. This issue is a huge social problem and we've got to do something about it."
The experienced fundraiser said he had offered to do the job because he believed the trust needed to be run professionally, with a fulltime chief executive and a small staff.
Asked about public concern over the in-house costs of charities, Mr Williams said his salary was at the lower end of the $100,000 to $200,000 range.
He was committed to making the trust's overhead costs, including his salary, account for no more than 10 per cent of annual turnover.
The Labour veteran said he was getting on famously with the National-led Government, especially Justice Minister Simon Power, whom he had found well briefed and receptive to ideas.
He believed there was a cross-party accord on the dangers of methamphetamine and the importance of tackling the drug.
Mr Williams said his first priority on starting next week was to raise money, using his old contacts and appealing to community trusts and businesses for help.
He said business owners had a strong vested interest in tackling the problem as most workplaces would have employees with a P habit, which cost the company time and money.
Stellar Trust chairman Alistair Burry said Mr Williams' strong fundraising background would help the trust move towards its aim of nationwide educational programmes for schools, businesses and the wider community.
He said most people already believed Holmes was linked with the trust so it made sense to formalise the relationship.
Mr Burry said the trust had so far raised $100,000, partly from a fund-raising dinner held at SkyCity inMay.
The dinner had not raised as much money as the trust had hoped because some costs of catering and bringing in guest speakers were considerably higher than expected.
The trust was very conscious that money raised should be spent on educational campaigns, not internal costs, and this would be a key part of Mr Williams' new job.