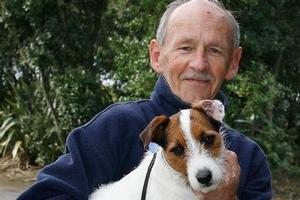 Concern about the mystery illness that has so far affected dogs, birds and sea life is so severe that several popular North Shore beaches were almost bare yesterday.
Laminated A3-sized warning signs have been stapled to posts along the North Shore coast, underneath the usual signs for beachgoers which warn of liquor bans and tsunami sirens.
But few people were about to read them. Beaches at Murrays Bay, Mairangi Bay, Castor Bay and Milford were all but barren.
Dog owners who had braved the beach were mostly keeping both their leashes and watchful eyes on their animals until they found out what it was.
Torbay couple Fran and John Pritchard, who walk at Long Bay most days, said they were not allowing their grandchildren's Jack Russell Rosco off his lead - or near the water.
Albany woman Patricia Leslie said her border collie Shadow swam at Long Bay on Tuesday and had not been sick.
However, she was keeping tabs on the dog, since learning yesterday that two had died.
Wilma Halling and her friend Jacquie Senior had not noticed the warning signs at the entrance to Long Bay, where they were walking Pipi, a bijon frese and Buddy, a labrador.
The pair had specifically headed to the northern beach because it was far from Narrow Neck beach, where two dogs had been before they died.
They put both dogs on leashes after speaking to the Herald.
At Browns Bay, English immigrant George Yeo said he was keeping his Yorkshire terriers Freddie and Sam close by.
"If they're on a beach we're keeping them on a lead."
* Readers respond
Some time back I noticed my ridgeback foaming at the mouth after a trip to the beach but he has returned to normal health following vomiting.
A month back (the time of the first reported dog death in Devonport) there were hundreds of dead pilchards lying on the beach and I spotted more last week. I made my own decision after that not to take my dog to the beach again. Summer is coming and I won't be taking my dog OR my young family anywhere NEAR the beach until the investigation brings a solution to the problem and it is addressed in full.
- Adele
I know dogs have also been poisoned at Kohi beach in Auckland. My friend AnnMarie was concerned when her dog started foaming at the mouth, very scary, the vet said it was the fourth such incident he'd had all from people walking dogs on Kohi beach. Now she's afraid to take him back there as are other dog owners.
- Theresa
We live in Taupo and Auckland. When we visit Auckland every three weeks we always have our dogs on the North Shore beaches. About two and a half weeks ago one of our dogs started vomiting and couldn't exercise.
X-rays showed inflammation of the lung linings. Blood tests didn't show anything. At the time the vet did ask if the dog had been near rat poison. (Unfortunately this much-loved dog has since died after being run over.)
We have just been on Auckland beaches again this past weekend and yesterday our second dog vomited. She is okay and we are having her checked.
- Gaylene Spencer
Our dog became ill last Thursday after her daily walk at Long Bay. She was treated by a vet and thankfully seems to have made a full recovery. The vet mentioned he had treated another dog with similar symptoms.
The beach that Thursday was littered with dead fish and we were surprised to see the rangers on their tractor scooping them all up.
Did they know then that something was wrong? Why has it taken so long to warn people?
- Alison Ace