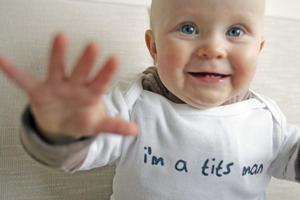 Child advocates have slammed a risque range of baby clothes that created a storm of controversy in Australia and are now on sale in New Zealand.
The T-shirts and suits are on sale in Australian chain Cotton On Kids' 17 Kiwi stores and feature slogans including "I'm a tits man", "The condom broke", "I'm living proof my mum is easy" and "Mummy likes it on top".
Family groups and child psychologists in Australia said they sexualised children and called for them to be withdrawn.
National Council of Women of New Zealand president Elizabeth Bang agreed and said the slogans were "awful".
"We've noticed more and more of this and we think it's time it stopped. There's quite a lot of research showing the sexualisation of children can be harmful to their mental and physical health."
Moyna Fletcher, of anti-child abuse trust CPS, said the clothing exploits children for adults' entertainment.
Clinical psychologist April Trenberth, who works with child sex abuse victims, said the range seemed "cute" and "harmless", but was actually "insidious and dangerous".
A Cotton On Kids shop assistant in Auckland said a few shoppers had complained, but most were amused.
A company spokeswoman in New Zealand was not aware of any complaints and directed enquiries to the company's Melbourne headquarters.
They did not respond, but in a statement to an Australian newspaper, Cotton On's marketing manager said the range had attracted "sporadic complaints" and would not be withdrawn.
"The slogan products aren't for everyone, but there's definitely a place in our society for provocative humour that pushes the boundaries."
The controversy follows World's foray into children's clothing in 2007. A range of T-shirts emblazoned with "Future Porn Star" was criticised, but designer Francis Hooper defended them as "humorous and irreverent".
In 2008, Jay Jays' Little Losers range of T-shirts was accused of sexualising kids. Featuring slogans such as "Miss Bitch", "Miss Floozy" and "Mr Well-Hung", they were removed from displays after criticism.
Taste test
Reaction to the T-shirt from shoppers in central Auckland this week was mixed:
"The condom broke' one is in worse taste than the other - that's like a suggestion that the child's not wanted."
- Martin Dickson, 43, software analyst
"I wouldn't want to see my child out wearing them. It's funny to us but they are just kids."
- Josie Fitzhugh, 36, mother of two under-fives
"I don't find them offensive. If somebody's brave enough to put them on their kids then good on them. I've seen lots of T-shirts like that overseas that are a lot more out there."
- Vickii Robertson, 40, life model