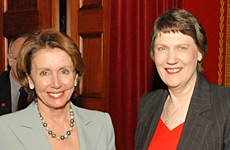 It was a comment to send a thrill down the spine of rural New Zealand: Democrats, on the centre-left of American politics, traditionally the more sceptical party when it comes to free trade, expressing "long-standing support" for a free trade deal between the US and New Zealand.
"Many of our members believe it should have been negotiated alongside the Australian FTA, so it's a logical step to continue processing towards this goal," a spokesman for the House of Representative's Ways and Means committee told the Herald.
At first blush it seemed the chances of New Zealand finally getting to the table to negotiate an FTA were very much enhanced, given President Bush's unequivocal support for free trade in principle. However, free trade supporters in New Zealand should not pop any champagne corks yet.
While trade attracts little attention in an American media dominated by the Iraq war and the Bush Administration's corruption scandals, where it does register there has been much speculation and little certainty about how the Democratic-led Congress will confront free trade issues.
Some Democrats have used strong protectionist language in response to working- and middle-class concern about the fragility of the US economy, the country's trade deficit and the loss of American jobs to outsourcing.
Writing in the Washington Post late last year, Democratic senators Byron Dorgan of North Dakota and Sherrod Brown of Ohio argued that the results of such trade agreements are soaring trade deficits and downward pressure on income and benefits for American workers.
Their stance was backed by a Wall Street Journal/NBC poll that found 46 per cent of Americans believe trade agreements harm their country.
But the spokesman for the Ways and Means committee says any assumption that Democrats are anti-free trade is inaccurate, even "offensive".
The two Democrats in the vanguard on trade issues - Charles Rangel of New York, chair of the House Ways and Means committee, and Montana senator Max Baucus, chair of the Senate Finance committee - have a history of voting in favour of FTAs.
Baucus said this month that "by lowering trade barriers abroad we develop new export opportunities. We can create jobs and further economic growth here at home."
The best indication of the Democrat's free trade position will come as Congress debates whether to extend the President's trade-promotion authority due to expire on July 1. The authority has allowed Bush staff to negotiate FTAs and bring them before the House for a simple yes or no vote.
Sebastian Mallaby, director of the Centre for Geoeconomic Studies at the non-partisan Council on Foreign Relations, says without such an "up and down vote" Congress would be able to endlessly pick apart FTAs and they would never be passed. It will be "a close call" whether or not Congress approves an extension, he believes.
If it does, Bush would be in a position to initiate negotiations with New Zealand knowing he has rare bi-partisan support in the House. Yet even if he wins that authority Mallaby considers new negotiations unlikely.
On one hand, Bush is in his penultimate year and woefully unpopular. On the other, Congress is full to overflowing with trade issues already.
Usually it would have to debate one or two major trade issues annually. This year the White House will present it with FTAs with Peru and Colombia. A third, with South Korea, is having the finishing touches added. Then there's a smaller deal with Panama, the authority extension issue and the Doha world trade round to debate.
"It'll be tough enough to get the issues that are in the pipeline through," says Mallaby. "The idea that an Administration as weak as this one would have the energy to launch itself into another negotiation, I think it's a long shot."
The advantage New Zealand has is its strength on the parts of FTAs with which Democrats most like to tinker - labour and environmental standards. Where it may struggle is in fending off a strong American dairy lobby.
The political reality is that as much as Bush might like to deliver Clark a golden ticket, his ability to do so is doubtful. Power in Washington has moved left, largely into the hands of a politician not unlike Helen Clark - a pragmatic woman from the left of her party who has risen to leadership.
Clark's meeting with Democratic House majority leader Nancy Pelosi the day before her White House visit may have a greater bearing on any future trade deals. "You won't get trade deals unless she [Pelosi] is willing to co-operate," says Mallaby.
Clark may have been hinting as much when she said after her meeting with Pelosi on Tuesday [US time] that "our approach [to an FTA] has always been not if, but when".
That "when" may come in next year if, as the polls suggest, an ally-seeking Democratic president is elected, backed by a Democratic Congress.
By Tim Watkin