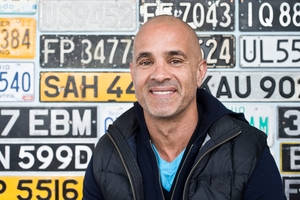 In his no-holds-barred manner, Matthew Ridge doesn't miss a beat in nominating the highlight of his rugby and league career.
"There's something really special about making a grand final with your teammates," he says, reflecting on his golden years with the Manly Sea Eagles.
"Winning a premiership is the toughest. The ups and downs, it's a long hard slog - ask anyone who has played for his country, and they'd still say if they could win one thing, it would be a premiership.
"I've played for the All Blacks and Kiwis, captained the Kiwis, beat Australia twice ... But winning the premiership was the best by a mile."
Manly is the club with never-give-up written into its DNA, and it will play yet another grand final tomorrow night, against the Sydney Roosters.
Ridge, a household name who lived in the headlines for many years, was among the many important authors of this never-ending Manly script.
He was the rising rugby fullback from Auckland who quit when his path to the All Blacks test team appeared blocked.
Ridge took his skinny frame and muscle-bound personality to the brutal Australian league premiership and excelled from the outset. He was in the vanguard of players who set new standards in goalkicking, defence and professional attitudes.
Tim Sheens, the current Australian coach, told me a story about the first time he clapped eyes on Ridge.
The league newcomer had dived head first at Mal Meninga's knees to prevent a try, something that left a big impression on Sheens, who added that he wasn't sure if it was a sensible way to earn a living.
By 1995, Manly were almost invincible, but fell at the grand final hurdle against the Canterbury Bulldogs who were boosted by a seventh tackle try.
"We started arguing with the referee, lost composure," says the 45-year-old Ridge, gazing out the window of the office that overlooks his Greenlane car grooming operation.
"That was the hardest game I've had to lose. I remember [All Black] Gary Whetton saying that if you lost the last test of a season, when you went to the beach it was like having a rock on your back. You can never quite get it out of your mind.
"There were guys with tears ... I didn't cry but I was gutted. It was very emotional. You can't sleep properly in the week leading up to the grand final. You worry about not letting your teammates and club down. But we let ourselves down that day."
Ridge pulled among the most famous of grand final moves a year later to help ensure a summer of rock-free sunbathing. But he could so easily have missed the biggest day of his footballing life.
As the Super League war raged, Ridge quit the Australian Rugby League camp for the News Ltd side. Bluntly, he says it was all about money. News gave him a $300,000 sign-on, against the ARL's $100,000 offer. After earning around $160,000 a year at Manly, he ended up on $650,000 at the Auckland Warriors.
Initially caught between two camps, he resolutely - and vocally - stood down for the first part of the 1996 season, before News boss Lachlan Murdoch ordered him back into the Manly playing ranks for legal reasons. The Australian Rugby League grand final called again.
Manly dominated the first half against the St George Dragons, but held only an 8-2 lead after conceding a penalty just before halftime. On the spur of the moment, Ridge acted.
Approaching the kickoff, he noticed opponents out of position and nudged a left-footed kick just over the 10-metre line, regathered, wrestled free of Nathan Brown, and set up the victory path try.
"There was a lot of controversy and Nathan Brown still claims I was held in the tackle, but we both looked at the referee and he said play on," says Ridge.
"I could have looked a right knob, especially if the ball didn't go 10 metres and they got a penalty which deflated us. I don't think anyone had ever tried a kickoff like that."
The rest of his club career easily fits Ridge's black-and-white descriptions. Manly under Bob "Bozo" Fulton's coaching represented professionalism, blunt language and an arm around the shoulder when needed. Mistakes in training weren't tolerated by anyone, but Fulton would sense when Ridge's battered body needed a rest and suggest he shoot basketball hoops instead of training.
Players revelled in giving and receiving "sprays", vocal acts that built a spirit based on sometimes pointed humour. It was a world that suited his famously brash exterior.
Ridge says: "They call it bagging but it's their humour, it builds camaraderie and it could carry a message - things like 'hey mate, you don't want to eat that pie 'cos look at the size of your guts'.
"But at the Warriors, you felt like you had to cuddle guys all the time. There wasn't enough honesty. I couldn't say what I wanted. It was a culture shock. So I started to change. I felt like a one-man band."
All of his good club memories lie with Manly.
"If I have one regret, it was leaving Manly. I could have been a one-club player," he says.
Geoff Toovey - current Manly coach and former team mate
Ridge had just arrived at Manly to find Toovey handing out invitations to his 21st. Finding the newcomer Ridge in his sights, Toovey grunted, and held the invite back.
"He's the world's grumpiest man...an amazing player," says Ridge.
"He commanded respect, even at that age. He was four foot nothing and would smash guys. He was really fast...so determined, so tough.
"I was the new boy who came with the fanfare but Manly don't care about that stuff. They only care if you put the body on the line each week."
Craig Innes - fellow All Black and old mate who joined him at Manly.
"People ask who was the best player you played with...the best are the ones who never make mistakes.
"Postie was one of those guys - he only made one major mistake I can remember and I gave him a spray for it.
"There were great centres then like Steve Renouf and Postie made mincemeat of them. He didn't run rings around them but he was a magnificent defender and would smash them."
Ian Roberts - legendary Manly prop
"He left the club after we lost the 1995 grand final. He was a great player yet he never won a premiership...they are so tough to win."
John Monie - Warriors' inaugural coach
"He was supposed to be a world class coach but he wasn't'."
Kevin Locke - under pressure Warriors fullback.
"He's a terrific player but he's got to be nurtured. He's still young and had injuries and might have lost a bit of speed. Those sort of players need to be wrapped in a bit of cotton wool once they have the base fitness, like the All Blacks do. It makes me laugh signing (Englishman) Sam Tomkins - a fullback shouldn't be the marquee player even though I was for the Warriors."
Cliff Lyons - former Manly team mate and wizard No. 6.
"He made me laugh. He would get away with whatever he could. He'd listen to the halftime talk for a while then walk out and have a cigarette out the back. I thought 'this is unbelievable'. It changed when Bozo (Bob Fulton) arrived."

Stacey Jones - league great and former Warriors/Kiwis team mate
"Stacey used to do my head in to be honest because he lacked resolve on defence. Many times I told him he had to put his body on the line. He was a great attacking halfback and could do things that others couldn't. And when he put his mind to it he could tackle but front on he was just weak and you can't win a premiership without a defensive halfback. The game is 50 percent defence "

Shaun Johnson - current Warriors/Kiwis halfback
"I say to Shaun all the time 'you are really good...you're better than Stacey but you've got the same shit.' He can't tackle. Guys hate to play with people who are bad on defence. The guys next to them can't just concentrate on their own man. At least Stacey was little and had an excuse but Shaun is a big guy - he's just got to get better at that."
Bob Fulton - Kangaroos legend and former Manly coach
"The work ethic that Bozo taught us has stayed at the club. Toovs will be the same type of coach. You need to give players a spray but also put an arm around them. But what works for one player won't work for another."
Ridge on himself...
"I wasn't fast, I couldn't score 100m tries, my discipline wasn't right at the end of my career...but I always put my heart and body on the line."