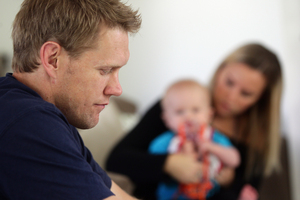 Micheal Luck has made 5484 tackles in his Warriors career and propelled himself into opposition defences 1103 times.
He has asked his body to do an extraordinary amount of work over the past six years, in one of the toughest sports anywhere, but now his body is telling him it's nearly had enough. It doesn't want to be bent and twisted and punished much more.
It's a principal reason why Luck will retire from rugby league at the end of the season. His decision came as a surprise - Warriors chief executive Wayne Scurrah assumed he wanted more money when Luck and his agent walked into his office on Thursday - especially as Luck turned 30 only yesterday.
But he is at peace with it. He has another good reason, too. Three days after the Warriors' 40-10 defeat to the Broncos in their qualifying semifinal at Suncorp Stadium last year, his son Murphy was born.
"My body is telling me you can't keep bashing yourself forever and expect everything to heal up as quickly as it used to," Luck says.
"I think the time is right to go back to Townsville to be surrounded by our family. Having a little bloke opens your eyes and gives you a different perspective on things.
"Five years ago, I lived and died by what I did on a footy field. That's changed. I always thought when my focus wasn't solely on football, that would be when I started to question myself. In saying that, if my body held up to it, I would play forever.
"But the way I play the game, I'm a smaller man in a bigger man's game. It takes its toll. I have loved every minute of it and still love being around the boys. That's the thing I will miss the most, being able to go to work with your 20 best mates every day."
Luck will leave a big hole at the club on so many levels and it's why they offered him a one-year extension as well as a position on the back-room staff. Coach Brian McClennan had also started discussing the possibility of Luck joining the coaching team.
"That was unbelievable," Luck says. "I was blown away by those offers and so grateful those guys thought of me in that regard. But for the good of us, it's time to go back and let Murphy grow up surrounded by cousins, grandparents, aunties and uncles. It's time to start the next phase of my life.
"At the moment, I don't know what I will do but I won't say no to anything. I'm not all that concerned about it just yet. If I can stay involved in the game at a professional level, that would be great. But given there's only one team in Townsville and all those jobs are probably filled [it might be difficult]. If there's nothing, I will go back to drinking cans at the cans bar in Townsville."
Luck will probably do that anyway but he has more than just rugby league to fall back on. He's completing a masters in business with a focus on sports management and employment in that area is a possibility.
Even before he made his first-grade debut for the club in 2006, the side were stripped four competition points and fined $430,000 for a serious breach of the salary cap. He wasn't put off, however, because he was desperate to establish himself as a regular first-grader.
Luck played 76 games for the Cowboys over five seasons but most were off the bench and it didn't take long to make a decision to relocate when new Warriors coaches Ivan Cleary and Kevin Campion called. He hoped he would be more than a "bit-part player" for the Warriors. He was a lot more than that.
People will remember him for his tackling - he once made a record 74 in one game and in 2008 made the most of any player in the NRL. They'll also remember his leadership and work ethic and it's those qualities that earned him a call-up to the Queensland State of Origin side in 2007 as 18th man.
"If I walk off the field and I'm not exhausted, I'm disappointed in myself," he says.
Sometimes, however, he didn't walk off. In 2010, his leg was sliced open by the studs of Anthony Watmough, leaving an 18cm gash above his knee that was so gruesome, many who saw it nearly vomited. And last year, he missed a month (he was supposed to be out for two) after dislocating his knee cap. He's had four surgeries since November and the hand he broke in last year's grand final still hasn't healed.
Luck isn't one to complain about injuries - it's something that even annoys his wife ToniLee because he's clearly in pain - and thinks he's been fortunate throughout his career.
"Most of my stuff is superficial," he says. "Cuts here and there."
Luck once played 70 consecutive games for the Warriors but he's not as durable any more. And he knows it.
He has always wondered when the time was right to retire and those thoughts became more persistent last year. Last week, he settled on his decision.
"To go out on my own terms was something I always wanted to do," he says. "I didn't want to go a season too long - not be a burden on the rest of the team."
That epitomises Luck. The likeable 30-year-old doesn't want a fuss made about him and didn't think anyone would be too bothered when he retired. They are, because every team needs a Micheal Luck.
Sadly for the Warriors, their one won't be around for much longer.
- APNZ