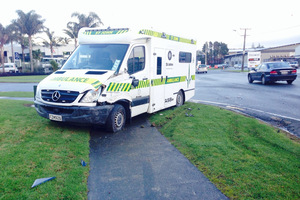 Two ambulances on their way to a cardiac arrest patient in Whangarei needed help of their own after crashing into one another.
Yesterday at around 7.48am, the St John Ambulances collided while heading east on Rewa Rewa Rd with lights flashing, according to witness Bruce Newby.
"One went to turn down and the other went to pass it and they basically crashed into each other," said Mr Newby, at mechanic at nearby business Warren Hay Marine. "It looked like one knew where they were going, and the other one didn't."
After colliding, both ambulances skidded to a stop on the other side of the road, he said.
Thankfully, both drivers were uninjured and no patients were being transported, St John district operations manager for Northland Tony Devanney said.
The cardiac arrest patient, at a nearby business, was transported safely to Whangarei Hospital and their safety was not compromised, he said.
"Ambulance personnel involved in the accident are being supported as St John continues its normal operations in the community.
"St John takes patient safety very seriously and has safe operation procedures in place for its ambulance crews."
Mr Devanney was unsure when the ambulances would be back in action, but said in the meantime one ambulance was being borrowed from Auckland St John, while a new, later-model yellow ambulance was set to arrive in Whangarei yesterday anyway. That would bring the Whangarei station back to a total of three fully crewed ambulances, he said.
"The [crashed] ambulances are quite badly damaged and are currently being assessed by repairers and insurers," he said.
When asked why two ambulances went along to the incident, Mr Devanney said: "It's our standard policy and procedure wherever possible to have two ambulances attend a cardiac arrest to provide more clinical care and back up."