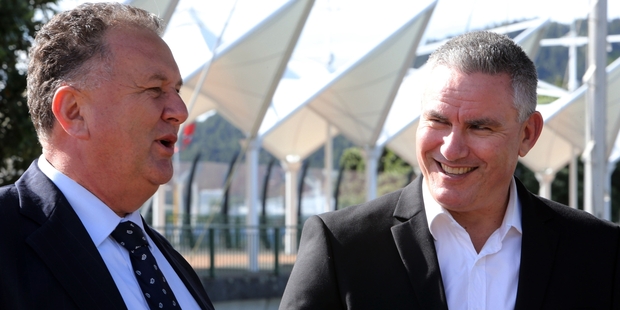 MP Shane Jones says he would have stayed on to fight the election if he had been Labour Party leader, but he has resigned from Parliament because he's "had enough" and couldn't give 100 per cent to the cause.
Mr Jones shocked many when he announced late on Tuesday that he was retiring as an MP after three terms and he is expected to take up a job offered by the National Party - a new role as a roving economic ambassador across the Pacific.
Kelvin Davis, also from the Far North and former list MP himself, will replace Mr Jones as a list MP as he was next on the Labour Party's list.
The pair were in Whangarei yesterday for a bit of an informal hand over - Mr Jones will leave Parliament next month - and the Northern Advocate caught up with them at the Town Basin.
Mr Jones said he did not believe he could give 100 per cent to his role any more despite getting the most traction of any Labour MP over the past few months and made the "personal" decision to walk away over Easter.
"If I was leader of the Labour Party I would be preparing to move into Premier House (the official residence of the Prime Minister in Wellington) after victory in the election, but I had the privilege of standing (for the leadership) and had a massive amount of fun doing so," he said.
Mr Jones said that wasn't the sole reason for his departure, but admitted he had lost some of his "verve" since the leadership race.
"I know some people will be disappointed, but it was something that was deeply personal to me and over Easter I had a, for want of a better phrase, a 'come to Jesus' moment," he said.
"There was no way I could go forward into the election, let alone commit to the next three to six years in Parliament, without having that passion and commitment - there was no reservoir of resolve that Labour needs from all its aspirants or sitting MPs seeking re-election. I'd had enough."
Mr Jones said he felt during the leadership campaign he regained respect among Tai Tokerau voters for earlier "colourful lapses in judgment" - including in 2009 when the release of ministerial credit card details showed he had been using his to watch porn in hotel rooms although he had repaid the amounts in question.
He said there had been no pressure on him to leave and he would feel sad if people felt that National had only offered him a job because they wanted to get rid of the only Labour MP that was scoring points against it in Parliament.
There were frustrations during his career in being reined in over some comments he had made.
Mr Jones said he had worked hard to expose Countdown's alleged mistreatment of New Zealand suppliers, with his campaign leading to a Commerce Commission investigation into the issue.
Labour party leader David Cunliffe said he did not try to convince Mr Jones to stay with the party when he received news of his resignation on Tuesday, and he was sure there would be a place in the Labour Party caucus for Mr Jones if he changed his mind.