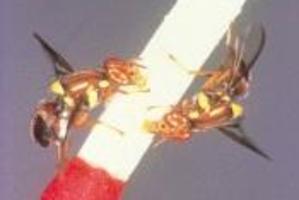 Whangarei's latest Queensland fruit fly scare could be declared over on Easter Sunday with no more of the pests found since a single male was found in a trap in the Parihaka area on April 1.
The Ministry for Primary Industries (MPI) started its second fruit fly biosecurity operation so far this year the following day and as of today (Friday) no new fruit flies had been found.
MPI Chief Operating Officer Andrew Coleman said if no further Queensland fruit flies are found in Whangarei he will announce an end to its response in the area tomorrow morning.
The Queensland fruit fly is a significant pest of many horticultural crops and home gardens and threatens New Zealand's $4 billion horticulture industry and MPI set up a Controlled Area extending out 1.5km from the location of the find where people were asked not to move any whole fruit or certain vegetables out of the area. This was in case further flies were present, and designed to prevent spread of the pest out of the area, Mr Coleman said.
He said all MPI's field work - the trapping, checking of fallen fruit and home orchards and the Controlled Area - are set out in an internationally-accepted Response Standard, which require that the response traps and movement controls on produce must be in place for a full 14 days with no fruit fly detections.
"We remain on alert for the possibility that there could be a last-minute detection of further flies and the response team will swing into action, should this be the case," Mr Coleman said.
"However, we hope to be able to publicly notify the community on Sunday morning that we have had the all-clear and the Controlled Area Notice is revoked and people can go about their business as usual."
Mr Coleman is "cautiously optimistic" that the trapped fly was a single detection. There have been four previous Queensland fruit fly trap detections in New Zealand and in all cases no breeding population of the flies was found. The last one was in Whangarei in January and that bioseurity operation cost about $1.6 million.
He said the community support for the restrictions on produce movement has been heartening, particularly given that almost the same area of Whangarei was subjected to similar controls in January.
"We do not know how these two flies entered New Zealand, but the Ministry is carrying out investigations into possible entry routes," he said.