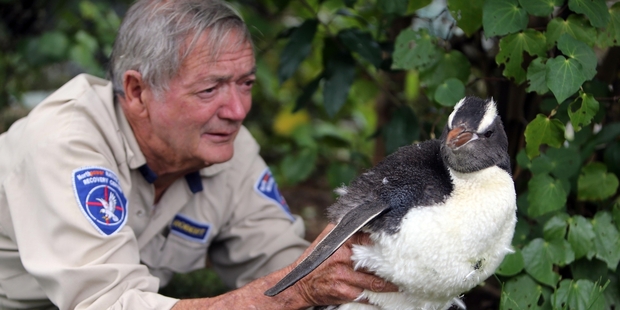 Being so far from home has ruffled the feathers of the latest resident at Whangarei Native Bird Recovery Centre.
A 5.5kg Snares crested penguin was found on a beach in Russell and brought to the attention of Whangarei Native Bird Recovery Centre manager Robert Webb last week.
The penguin, named Burt after Burt Munro the New Zealander with the fastest land-speed record on a 1000cc motorbike, arrived in Whangarei on Sunday and wasn't injured at all.
"He is moulting, and when they're doing that they can't go in the water because they're not waterproof," Mr Webb said.
"He would have died on that beach, a dog or something would have got him."
Mr Webb had never seen a Snares crested penguin before, nor any as large as Burt.
"He seems alright, he's getting a bit more happy," Mr Webb said.
"Once he has finished moulting and he is waterproof again I'll let him go at The Poor Knights."
The Snares crested penguins are found south-east of Stewart Island at the Antipodes Islands.
As to why he is so far from home, Mr Webb said penguins travel many miles and it could be a case of Burt being swept in a strong current in the wrong direction.
"He could have been blown off course, it's hard to say," he said. "We do get big penguins arriving on different coasts but I've never seen one like this."
The little blue penguin can be found on nearly every coastline in New Zealand. It is the smallest penguin in the world.