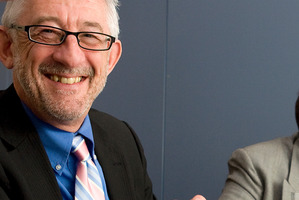 A review of art courses at three NorthTec campuses has students and tutors nervous about their future.
NorthTec offers a three-year bachelor degree in applied art at Whangarei and Kerikeri, a two-year diploma at Rawene and a one-year certificate at Whangarei and Rawene.
It is understood the consultation document proposes closing down the bachelor's course in Kerikeri and supporting the students to finish their degrees at the Raumanga, Whangarei, campus. Some, however, already travel long distances to get to Kerikeri.
Rawene could also face changes with the possible closure of its certificate course while a certificate in photography could go in Whangarei.
Improved marketing of the Kerikeri course, which has seen a drop in numbers this year, is thought to be one of the alternatives being considered. Changes to Winz and student loan rules are said to among the reasons for a number of students pulling out this year.
The Kerikeri campus is the only tertiary art school in the country which has a glass-casting workshop and teaches non-toxic printmaking. It is one of only two in New Zealand teaching ceramics, with the other in Dunedin.
It has nationally acclaimed tutors including ceramic artist Richard Parker, painter Scott McFarlane and printmaker Mark Graver; students who have gone on to win international awards include glass artists Lee Brogan and Sue Hawker.
NorthTec chief executive Paul Binney visited the Kerikeri campus on September 13 to discuss the review with staff.
NorthTec is not commenting for now but a spokesman said it was only a review at this stage. The outcome is expected to be known in mid-October.
Creative Northland chief executive Chris Carey, a former manager of NorthTec's arts programme, said he would be ''really saddened'' if the Kerikeri course were to close.
''The course was always touch and go but we managed to make it work. However, the current regime led out of Wellington is very stringent. If it doesn't pay its way, it goes.''
Mr Carey questioned whether NorthTec was fully capitalising on the calibre of its Kerikeri tutors, whose exhibitions could generate a good income stream from the government's Performance-Based Research Fund.
The Kerikeri campus had been hard to get going but the business and arts courses had always kept it afloat, he said.
Staff, students and members of the community who wished to make a written submission had only until September 20 to do so. Consultation began on August 30.
Northern Advocate arts reviewer Laurence Clark was shocked the courses could close, saying he had reviewed ''extremely good'' artists who had come out of the Kerikeri and Rawene campuses.
''Northland was going really well in the arts. This looks like going backwards,'' he said.
Ironically, the proposal to close down some of Northland's top applied arts courses comes as the Whangarei District Council considers building a multi-million-dollar Hundertwasser Arts Centre at the Town Basin.
The plan to rebuild the old regional council building according to a design by the late Friedensreich Hundertwasser was originally mooted in the 1990s and revived in 2008. The final decision has been left to the incoming Whangarei District Council.
A 2010 study found creative industries contributed $75 million a year to the Northland economy and employed about 2000 people.
Like many educational institutions, NorthTec is understood to be under a financial squeeze.