National Short Range Forecast
1:52 PM August 20, 2014
Northland to Waitomo, including Coromandel, Taumarunui, Taupo and Bay of Plenty
Showers, some heavy with thunderstorms possible this afternoon and evening. Becoming fine over most places tomorrow morning.
Taranaki, Taihape and Wanganui
Scattered rain with snow to 500 metres tomorrow.
Manawatu and Kapiti Coast
Isolated showers.
Gisborne, Hawkes Bay, Wairarapa and Wellington
Scattered rain, possibly heavy in Gisborne today. Showers tomorrow with snow gradually lowering to about 500 metres by evening.
Nelson and Buller
Isolated showers clearing this afternoon. Fine spells tomorrow.
Marlborough to Southland, including Otago
Showers developing in Southland tonight, spreading north tomorrow with a cold southerly change. Snow lowering to 200 metres in Southland tomorrow, and 300 metres further north.
Westland and Fiordland
Fine weather.
Chatham Islands
Rain tonight. Strong cold showery southerlies tomorrow with snow to 200 metres.
National Long Range Forecast
1:56 PM August 20, 2014
Friday
A few showers in the east and south of both islands and fine elsewhere.
Saturday
Cloudy in the south and east of both islands with a few showers and fine elsewhere.
Sunday
North Island, showers about Gisborne and Hawkes Bay and a few showers further south. Fine elsewhere. South Island, a few showers in the south and about the Kaikoura Coast, also western ranges of Nelson. Fine elsewhere.
Chatham Islands
Showers on Friday with southwest gales easing for a time. Further showers over the weekend with strong southerlies.
Moon Phases
Aug 18
Last Quarter
Aug 26
New Moon
Sep 02
First Quarter
Sep 09
Full Moon
Isobaric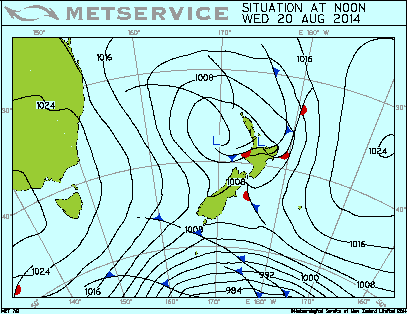 August 20, 2014
Satellite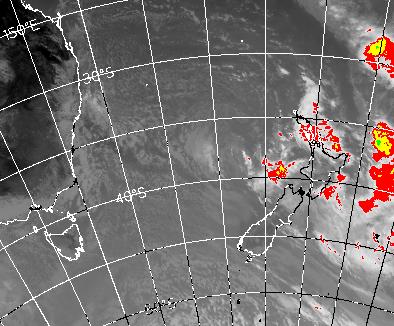 August 20, 2014
For more detailed weather information visit