National Short Range Forecast
11:13 AM September 2, 2014
Northland, Auckland, Coromandel Peninsula
Fine spells and isolated afternoon showers.
In the west from Waikato to Wellington, also Bay of Plenty, Taupo and Taihape
Remaining showers clearing this afternoon and fine spells increasing. Scattered showers developing inland tomorrow afternoon, some heavy and possibly thundery.
Gisborne and Hawkes Bay
Rain, easing to showers tomorrow morning.
Wairarapa
Scattered rain clearing tomorrow morning and becoming fine. However, showers developing inland tomorrow afternoon, some heavy.
Marlborough
Cloudy areas, mainly about the coast, with patchy drizzle there this evening.
Southern Fiordland, Southland and Dunedin
Scattered light rain or drizzle developing in southern Fiordland tomorrow morning and spreading to coastal Southland in the afternoon, with patchy evening drizzle further north.
The remainder of the South Island
Fine, apart from areas of fog or low cloud morning and night.
The Chatham Islands
Becoming cloudy.
National Long Range Forecast
11:08 AM September 2, 2014
Thursday
North Island, rain developing in the north of the North Island and evening drizzle in the east, mainly fine elsewhere. South Island, some morning drizzle in the south and cloudy periods in the east. Fine elsewhere.
Friday
North Island, rain in most places, patchy from Taranaki to Wellington. South Island, patchy rain about Marlborough and mostly cloudy in the south and east. Fine elsewhere.
Saturday
North Island, rain about Gisborne and Hawkes Bay easing and showers elsewhere clearing. South Island, mainly fine, cloudy periods in the south and east. Patchy rain about Marlborough clearing,some drizzle about Foveaux Strait. Chatham Islands
Moon Phases
Aug 26
New Moon
Sep 02
First Quarter
Sep 09
Full Moon
Sep 16
Last Quarter
Isobaric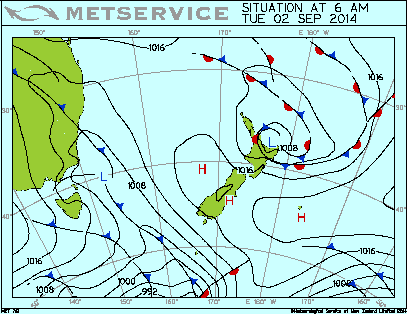 September 2, 2014
For more detailed weather information visit