Taking time out to explore Rotorua, Nadia Lim discovers the joys of trout fishing.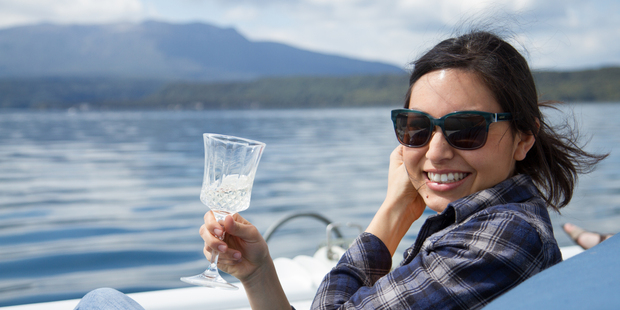 I love exploring new holiday areas, especially those that only require a few hours' drive from Auckland. Rotorua is one such spot; quietly offering a great deal more for domestic travellers than its touristy persona would give it credit.
I've always enjoyed Rotorua as a girlfriends-pampering weekend destination but it turns out there is an entire side of Rotorua that perhaps gets overlooked. With forest walks, mountain biking, fishing and lakes all on its doorstep, there is more to Rotorua than hot-pools, geysers and sulphur.
The weekend was an opportunity to see a little more of the other side of Rotorua. Suffice to say, our dining experiences, hotel accommodation and the down-to-earth attitude of the locals made us feel welcome.
Arriving at the centrally located Regent of Rotorua Boutique Hotel and Spa my husband Carlos and I were instantly impressed by the friendly and attentive staff. Recently refurbished, this cute hotel displayed charm and style, reflective of hotelier Darren's character. It's worth noting that the restaurant here is worth a try, we dined here on the first night and the confit duck leg was delicious.
Up at the crack of dawn, we stopped by Lime Cafe, which I believe is a must-stop in Rotorua, having eaten here on numerous occasions. As well as serving excellent excellent coffee, on this morning we were treated to gorgeous waffles with maple syrup and a mushroom stack with masala, both dishes tasting every bit as delicious as they looked.
Another notable local eatery is Picnic Cafe, which does an awesome French toast with a Dutch twist. Between these two cafes you'll be spoiled for a great start to the day.
With our bellies satisfied, we embarked on a fishing charter, climbing into a float plane to begin our trout fishing adventure. Volcanic Air Safaris offers scenic flights around Rotorua, and can also chopper you to White Island to explore the volcanic surroundings.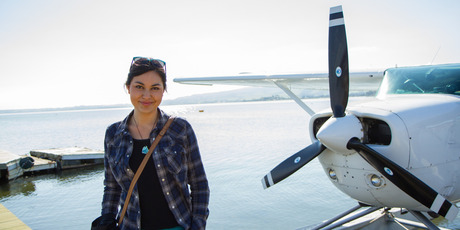 Lake Rotorua's water was like glass as we lifted off to explore the scorched scree slips, rubble and acid pools all formed by volcanic activity. As we turned towards Lake Tarawera our pilot ensured we made a grand airborne entrance. With a single pass he landed the float plane effortlessly in the middle of the lake where we waited, John Hamill's catamaran cruising towards us. Once docked next to the plane we simply jumped from the plane's floats across to the boat. For a few seconds I felt like James Bond.
If you haven't been trout fishing before, John Hamill has it mastered. It's a fun, clean and relaxing way to spend tme, and with John's business Cruise and Fish and also Volcanic Air Safaris you're guaranteed a great day out.
As the sun beat down, wine, nibbles and laughter flowed. To be honest, I wasn't too concerned about what the fish were doing. Lake Tarawera is an idyllic place where just relaxing in the sun onboard the boat was more than enough. However the fish were biting and within a couple of drops we slow-jigged wet flies to be rewarded with a few fat rainbow trout. Too easy.
The catamaran then headed towards Te Rata Bay (commonly known as Hot Water Beach), and it is paradise.
You can book online to reserve a DOC campsite and pitch a tent anywhere along this stretch of beach. Somewhere below the surface is volcanic activity, so the sand is hot, even scorching in some places, at 60-80C. You can build your own hot pool to sit and relax in and take in the most amazing views. You don't need to worry about loads of tourists as this gem can only be accessed by boat.
This hot water and sand isn't just great to sit in, you can cook a meal in it, too. With the trout wrapped in tin-foil, we dug a small hole and covered the trout to cook quietly in the sand oven. After 20 minutes the fish was perfectly cooked and we shared a lovely lunch of fresh rainbow trout, tomato, basil and pinot gris.
Properly relaxed after a sunny day on the boat, we headed for a quick dip at the Polynesian Spa before heading off to dinner at Peppers on the Point. This lovingly restored mansion boasts a magnificent view of Lake Rotorua and with head-chef Craig Martin at the helm, the food is fantastic. Craig, who has returned home from Attica restaurant in Melbourne, treated us to a degustation menu featuring a gorgeous slow-cooked pork belly with apple and Vietnamese mint dish, which was Michelin-star worthy. If dining on superb food under candle light in a beautiful setting sounds like you, then this is a must.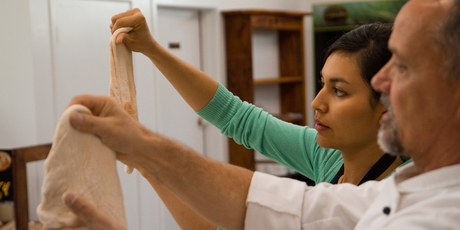 Before heading home, there was one last stop: Alex Burge's Ciabatta Bakery. You might need to turn your GPS on to find it as it's in an unassuming industrial area. Alex is a true artisan baker, with craftsmanship to rival the best bakers in Europe. He is engaging and his passion is contagious.
We spent Sunday with Alex, and he willingly imparted his knowledge and enthusiasm of bread making on to us in a baking class at his Artisan Baking School, which he runs next to his commercial bakery. His bakery is a must for anyone who loves bread and baking, and his ciabatta and pizza are simply out of this world. This bakery should be on any foodie's list of things to tick off in Rotorua and is worth a trip in itself.
At only 2½-3 hours' drive from Auckland, and closer again from Hamilton, Rotorua is ideal for a weekend getaway, whether it's relaxation, romance, great food or the outdoors that you're looking for.
Try Nadia's recipe for lime and basil cured trout gravlax
STAY: Regent of Rotorua Boutique Hotel and Spa, 1191 Pukaki St, ph 0508 734 368, regentrotorua.co.nz
EAT: Lime Caffeteria, 1096 Whakaue St, ph (07) 350 2033; Peppers on the Point, 214 Kawaha Point Rd, ph (07) 348 4868, peppers.co.nz; Ciabatta Bakery, 38 White St, ph (07) 348 3332, ciabattabakery.co.nz; Picnic Cafe, 1174 Whakaue St, ph (07) 343 9239.
FISH: Cruise and Fish, (John Hamill is the local legend), ph 021 951 959, cruiseandfish.co.nz
FLY: Volcanic Air Safaris, Memorial Ave, ph (07) 348 9984, volcanicair.co.nz
RELAX: Polynesian Spa, lake end, Hinemoa St, ph (07) 348 1328, polynesianspa.co.nz