Catherine Smith enjoys the high life with great views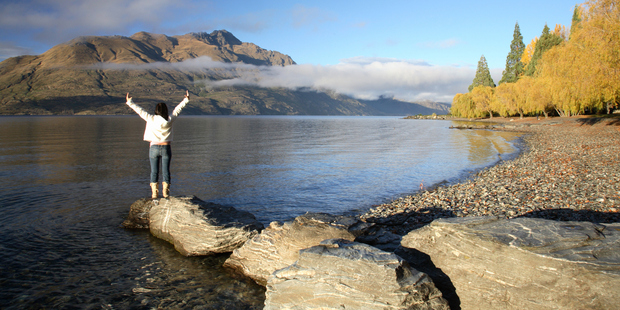 On the shores of Lake Wakatipu, the Central Otago. Photo / Getty Images
Aperson doesn't need much persuading to spend a weekend at Matakauri, the luxury lodge on the banks of Lake Wakatipu near Queenstown. I wasn't going into it unprepared, either. I had done my training for this marathon of pampering. I had been primed by Tourism New Zealand's new lump-in-the-throat promo videos, with the Famous People in Lord of the Rings/Hobbit extolling the virtues of the scenery, my tummy had rumbled through hours of editing a story on someone else's feasting at Matakauri's sister lodge, Kauri Cliffs, I'd even sat through a speech by the Minister of Tourism on the importance of the upscale-lodge tourist to our economy. Oh, I'd also been glued to the telly for Jane Campion's darkly gripping Top of the Lake, set on Wakatipu, but for some reason the locals would prefer we didn't mention that.
But I had forgotten how other worldly Queenstown is. Flying over the Alps and Remarkables and into the airport never fails to take my breath away. You come on all proud-to-be-a-Kiwi on the drive around the lake and through the increasingly pretty town (thanks, urban design, for clamping down on tat).
Past the town, the forested road to the lodge opens out to the gravel driveway (the sound of carriages sweeping into Downton Abbey), and there, beyond the pavilions are the handsome Mounts Cecil and Walter.
Right in your face. Virginia Fisher's interior design bravely (in a town of beige, rock and dark colours) picks up the most striking oranges, even pinks from the rocks for her luxurious schemes - I could have packed away one or two of her Persian rugs, Chinese cabinets and a Peter Beadle painting.
The suites are cunningly arranged so that living, bed and even bathrooms have views of lake and mountain. We lost count of the number of times the wee TSS Earnslaw steamed her way up and down the lake, while we were cosily curled up on the day bed or lounging in the bath, whiling away another hour or two.
The nice folks at Matakauri stock the mini-bar with all-you-can-eat snacks and homemade cookies, which is naughty when there are the huge delights of breakfasts and dinners by chef Jonathan Rogers to fit in, too. We did don walking shoes and tramp our way around the lodge grounds and alongside the lake, but just as a token dinner preparation in the crisp autumn air.
We rather liked the idea of having to choose where to eat - in front of the fire in the huge living room, in the pretty dining room, or the dark, cosy library next to the Picasso - and then not having to make any other food decisions, as plate after plate of degustation is sent from the kitchen, and the lovely sommelier "suggests" the perfect match of this or that wine. Breakfast is so fabulous on day one that we just repeat ourselves on day two. Someone else, too, has booked our spa massage (too late in the season to use the infinity pool with more views of those mounts), turned down the beds and arranged for the car (a Bentley, of course) to drive us around Arrowtown and the Bannockburn and Gibbston Valley wineries.
We didn't even have to decide on the best local coffee places en route, as Grant, our paua-diver-turned-driver sorted that out too. Our only gripe was that he was too super-discreet about the rich and famous clients he usually drives about (hints at rich sultans who extended two days' stay to 10; surely some of those Famous People from Lord of the Rings).
He deposited us at Carricks for a seasonal autumn lunch, then whizzed us around some of his favourite wineries - stopping for us to take pictures and salivate at the stunning architecture at Peregrine, diverting past yet another picturesque stone cottage/line of trees.
A highlight was discovering the organic practices at Mount Edward, where "big cheese" Duncan Forsyth allowed us to taste pinot naturally fermenting days, then weeks, after picking (sweet, lovely) and schooling us on the different terroir of the region. He also cures a mean side of pork, and is modest about his customers ("Restaurants just find us," he mutters, such restaurants including Napa Valley's famed The French Laundry and New York's Michelin-starred Public). Arrowtown was at its autumn coloured-peak, though we didn't have time to fit in a second lunch or third dinner at our favourite Saffron.
I'm seriously thinking I could go another round of training for this. The snow's arrived, the town is buzzing, Matakauri is putting tempting packages together.


MORE UP NORTH
Matakauri's sister resorts in the North Island, Cape Kidnappers and Kauri Cliffs, play host to gastronomic and golfing weekends. Cape Kidnappers hosts Rick Stein (August 22-24) while Kauri Cliffs features Neil Perry (July 27) and the ultimate pinot noir dinner (August 17).
Matakauri Checklist
GETTING THERE: Jetstar flies daily between Auckland and Queenstown.
ONLINE: matakauri.co.nz
• Catherine Smith was a guest of Matakauri Lodge and Jetstar.