Catherine Smith pedals Taranaki's seafront, stopping along the way.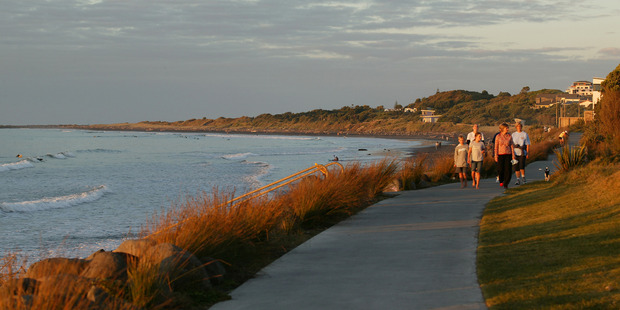 People can get cross about travel-writing cliches. We were sitting with Taranaki's biggest booster, Terry Parkes, on a balmy autumn evening in the courtyard of his restaurant, Table, at Nice Hotel.
"Don't you dare say 'best-kept secret' or 'I had no idea there was so many good things to do or eat or see in Taranaki'," he growled.
"We're just as well-known as Hawkes Bay. I don't know why Aucklanders don't come here more often."
He's right. For years, my husband and I had always turned left as we headed down the island, never right, to the west coast. I had bad memories from my youth of windy gorge and Mt Messenger roads, but it turns out both sections take mere minutes to traverse and, in daylight, offer spectacular views. Of course, that could have been helped by the whizzy new VW Golf Comfortline we'd borrowed for the weekend.
I'd wanted to ride the Coastal Walkway since I'd read about New Plymouth District Council's plan to encourage walking and cycling.
On a sunny Sunday, the wide path along the shore from the Len Lye Wind Wand in the centre of town was busier than Auckland's Tamaki Drive. We picked up bikes from the friendly folk at Cycle Inn and headed 11km along the seafront to the swooping Te Rewa Rewa bridge and the new public velodrome. Near the Fitzroy surf club, the wave-shaped retro caravan of the Big Wave Cafe was surrounded by vintage armchairs - a tempting coffee stop.
Travelling down one of the side paths, the bushy Te Henui Walkway, we stopped at one of the country's gardens of international significance. In a town better known for its rhododendrons, Te Kainga Marire is a delightful native garden, carved from a suburban clay plot in 1972. Valda and Dave had heard we were there for the local food, so plied us with their wonderfully smoky billy tea and pillowy scones, and proudly showed off their enviable vege garden.
We did well on the food score, so I won't annoy Terry. Everywhere we ate shared a pleasing theme of sourcing local produce. From lunches at the Okurukuru vineyard on the edge of the sea and at the Waiau Country Estate woolshed on a terrace surrounded by trees, to breakfast at the hip city-fringe The Federal Store, refreshing gin at Sentry Hill Winery and an evening's tasting at Nice, we enjoyed fresh autumn food at its best.
Our only disappointment, in this land of dairy farms, was that there aren't any good artisan cheesemakers. Foodies we asked blamed Fonterra.
Cheeringly, however, there is a great coffee roaster, Ozone, in the cool precinct of town, and we stocked up on veges and excellent bread at the small but useful Sunday farmers' market.
Although Govett-Brewster Art Gallery was closed for earthquake-strengthening, we had a sneak preview on the art trail around Oakura of some of the artists who'll show in November's garden festival.
Sparing you the "who knew?" cliches, I will use another, instead: for a good weekend of eating and exploring, I will be back for more. Not least because the mountain, the whole point of Taranaki, remained stubbornly under cloud for the whole weekend.
ON THE MAP
Eat: Table @ Nice Hotel 71 Brougham St.
Bike: Cycle Inn 133 Devon St East.
Nature: Te Kainga Marire 15 Spencer Place.
Food and wine: Okurukuru Vineyard, 738 Surf Highway 45, RD4. Waiau Country Estate, Onaero Beach Rd, RD43, Waitara. Sentry Hill Winery, 152 Cross Rd, RD3.
Coffee: Ozone Coffee Roasters 47a King St.
Catherine Smith was a guest of Venture Taranaki and VW.