The wonderful Waipara Valley produces remarkable handcrafted classic wines, writes Paul Rush.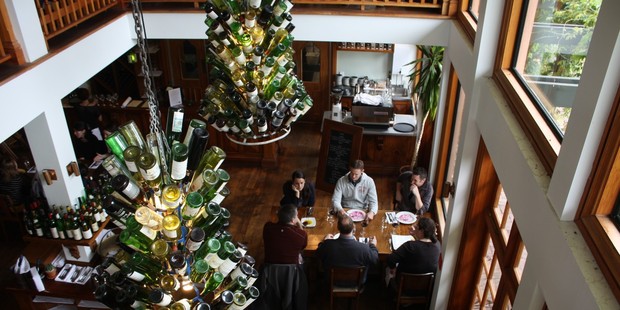 'I drink when I'm happy and when I'm sad and sometimes when I'm alone. I consider it obligatory to drink in company; otherwise I never touch it unless I'm thirsty.' So said the famous Champagne queen, Billi Bollinger, who knew a thing or two about the fruit of the vine.
Today I'm visiting the flourishing wine growing region of Waipara, 60 km north of Christchurch with a group of travellers who regard a cellar door wine tasting stop at Pegasus Bay as absolutely obligatory. They assure me that I'm in for a vinaceous and gastronomic treat with a connoisseur's sampling of pinot noir, riesling and chardonnay accompanied by a cheese, meat and fruit platter.
On the one hour drive north of Christchurch my anticipation grows by the minute. More than 30 wineries in the Waipara Valley enjoy a pleasant microclimate, good protection from cool easterly winds and a superb terroir of well-drained soils. They produce a great variety of characterful wine. The valley has warm days, cool nights and a dry autumn, providing a prolonged ripening period, which promotes intense flavours and optimal ripeness.
The Donaldson family's Pegasus Bay winery has an enviable record, having been awarded the best winery restaurant for the fifth consecutive year by Cuisine Magazine. It is said that the soul of Pegasus Bay is its wine and the heart is its kitchen, which dazzles diners year after year with mouth-watering selections like its whole Muscovy duck and Wagyu rib eye beef.
On our arrival I'm impressed by the distinctive pink manorial-style building and the property's expansive lawns and natural amphitheatre. Then there are the interior decorative elements like the artistic stacks of wine bottles in the window bays and the faux-chandeliers of coloured bottles that defy designer logic as they hang suspended over the dining area.
We sample vintages from 2009 - 2011 for sauvignon semillon, riesling, pinot gris, gewürztraminer and chardonnay before moving on to pinot noir and cabernet merlot. Our group expresses personal preferences for each variety, some favouring the sweet riesling and others with a dry palate opting for the chardonnay. All wines are of exceptional quality.
My pick of the bunch is the sauvignon semillon 2010, a traditional French blend with aromas and flavours of citrus fruit and greengages. There's a crisp finish and lingering aftertaste on the palate. The two varieties were picked in April and May respectively and were fermented separately by their natural yeasts.
The 2009 Chardonnay is also a standout, made from 25-year-old vines on north facing terraces that are warm during the day and cool at night. The season had an early budburst caused by a very mild spring. The 2011 pinot gris was also influenced by La Nina weather causing a mild spring, which resulted in a harvest of beautifully ripened fruit that gives the wine a concentration of fruit and lusciousness.
We continue our tasting in the Pegasus Bay restaurant, which has a view of the natural amphitheatre below where up to 3000 people have enjoyed operatic events and music festivals. The a la carte menu is outstanding, with every entree and mains matched with a recommended wine. We sample the premium platter for two with its delicious freshly sliced cured meats, crumbed mozzarella, Spanish olives, wild game terrine, roasted beetroot, buffalo yoghurt, organic rye sourdough and olive oil.
A 2009 pinot noir with a bright crimson hue accompanied the lunch and was truly superb, one of the vignerous treasures from the cellars - ambrosia in a glass. It was made using traditional Burgundian winemaking methods with 18 months in French barriques and careful blending of many different plots. The wine was refined and elegant with a powerful taste of fruit, especially cherries and blackberries. In simpler terms it's a very tasty wine.
There's a great deal of winemaking experience at Pegasus Bay and surprisingly, a lot of literary wisdom in the rest rooms as well, including the line, 'Please be assured that all wine served on these premises has been sampled and passed by the management.' Other gems include: 'There's a fine wine between pleasure and pain,' 'Alcohol is the answer, but I can't remember the question,' 'A meal without wine is like a day without sunshine' and 'I love to cook with wine, sometimes I put it in the food.'
Just a short distance along Omihi Road is another excellent tasting room at the Black Estate, a family-owned vineyard planted in 1993 on warm, sunny slopes with rich limestone soils. Winemaker, Nicholas Brown, offers us a taste of 2010 pinot noir that has a ruby hue, a deep, alluring bouquet and the exceptional taste of dark forest fruits.
He explains that the 16ha property has pinot noir and chardonnay planted on the lower slopes and pinot noir, chardonnay, chenin blanc and cabernet franc on the top slopes.
The aspect, terroir and cool climate is similar to that in the Loire Valley and as in France, they use handcrafted artisan techniques in making the wine. Minimal irrigation encourages the vines to extend their root system and low cropping results in high flavoured fruit.
We sit in the elevated tasting room with a cheese board and look out on a swathe of lush green slopes extending across the wide Waipara Valley. The scene is utterly peaceful and serene, with the Southern Alps in the distance and behind us are the protective Teviotdale Hills.
The Black Estate pinot noir is an exceptional wine. It won the International Wine & Spirits Competition Trophy in 2010. We also sample the 2011 chardonnay, which has a beautiful pale straw ad white gold hue and a complex floral bouquet. It freshens the palate and has a delightful aftertaste.
These two excellent vineyards represent the best that the Waipara Valley clay and limestone soils can produce and there are more than 20 other wineries in the valley. At least eight vineyards have cellar doors where visitors can taste wines and enjoy a lunch platter.
The region can give diners a total food and wine experience using only locally grown ingredients. Visitors can relax in a leafy vineyard setting and sample gourmet food such as salmon, eel, ostrich, artisan breads, olives, honey, cider, mead, tree-ripened fruit and handmade chocolates while sipping a fine selection of wines.
Cruising the SH1 straights back to Christchurch we reflect on our pleasant day's outing, feeling in good spirits. My face has a radiant glow could have been due to the bright sunlight in the valley or perhaps the quality of the award-winning wines.
FACT FILE
Getting There
The Waipara Valley is 60km north of Christchurch through Kaiapoi and Amberley.
Wine Trail
In the near future the Waipara Valley will offer a new incentive for visitors. A cycle trail being prepared that will link all the vineyards. Nearby Amberley has a Saturday morning Farmer's Market. The Waipara Valley Wine & Food Festival is held in late March, involving 20 wineries and the local food producers.
Weka Pass Railway
While in Waipara there's the option to take a ride on the Weka Pass Railway, a journey on a 1909 vintage classic stream train or a diesel-electric locomotive that takes you through limestone gorges and rolling farmland as it winds its way to Waikari. The train stops here for a 45-minute break for travellers to enjoy refreshments at the tearooms, cafe or local pub. You might even wish to open a bottle of Waipara Valley wine and experience the vintner's best on the vintage express.
Where to Stay
The Ibis Hotel in Hereford Street, Christchurch is a very convenient base for the city and tours to Waipara. Its one minute from the Re:Start Shopping Mall and Avon River walks and punting excursions and close to other city attractions.
WEBSITES
christchurchnz.com
visithurunui.co.nz
waiparawine.co.nz
waiparavalleywineandfood.co.nz
wekapassrailway.co.nz

• Paul Rush travelled to Waipara courtesy of Canterbury and Christchurch Tourism.