Karekare's 'black sand and craggy cliffs and bush-clad hills' appeal no surprise to a local.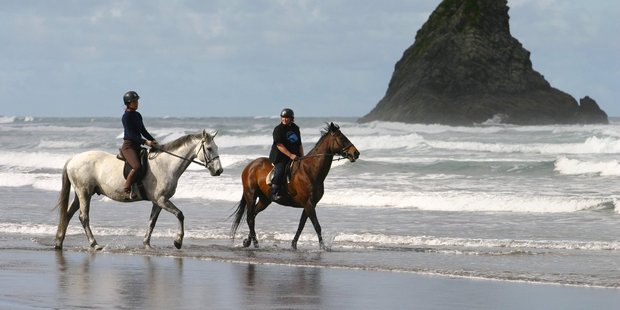 Karekare has been named among New Zealand's best beaches by an American publication focused on the outdoors.
The West Auckland beach was named by Outside magazine as one of the country's top 10 beaches, along with Ninety Mile Beach in the Far North, Hot Water Beach in Coromandel and Mosquito Bay on the Abel Tasman coastal walk.
Described as the beach made famous by the 1993 film The Piano, the magazine said Karekare "is a vast, still-empty paradise of black sand and craggy cliffs that loom over the Tasman Sea".
"Bush-clad green hills rife with native manuka, cabbage trees, and myriad ferns backdrop the sand, and the 100-foot [30m] Karekare Falls is tucked just inside the forest."
Seal spotting and "braving the churning surf for a wild swim" were among the activities visitors could do there, it said.
Absent from the list are Mt Maunganui and Piha.
Four beaches on the list are in the South Island, including Koekohe Beach near Moeraki, in North Otago, and Gillespies Beach, near Hokitika.
Adam Roscoe, 20, whose parents run the Karekare Beach Lodge, said he wasn't surprised that his local beach had made the list.
"Piha may be more popular but Karekare can offer something that's a little more private, and yet it's still so close to town."
Mr Roscoe said his parents got some business from tourists who had watched The Piano, and one American couple had returned every year.
"They just like seeing the sun set into the ocean from our place in the summer, and that it's less built up than the other beaches on the same coast," he said.
"It offers privacy, exclusion but if you want to get out into town to socialise you can as well."
Massey University marketing lecturer Associate Professor Henry Chung said The Piano had done for Karekare Beach tourism what The Lord of the Rings did for New Zealand.
"I believe it has been ranked a top New Zealand beach because a Hollywood movie has brought the beach to international attention," he said.
"It's opened up an exciting marketing opportunity for New Zealand, and especially the North Island."
Dr Chung said that with a circulation of nearly 690,000, Outside magazine gave a "new tourism perspective" of New Zealand to an international audience.
"Traditionally we have used sheep, farms and mountains to promote New Zealand," he said.
"But now we have a magazine that says hey, there are great beaches there too."
Dr Chung said beach holidays were popular among European and North American tourists.
Top 10 New Zealand beaches
* Karekare Beach (West Auckland)
* Ninety Mile Beach (Cape Reinga)
* Hot Water Beach (Coromandel)
* Gillespies Beach (West Coast)
* Manu Bay (Raglan)
* Wainui Beach (Gisborne)
* Allans Beach (Dunedin)
* Mosquito Bay (Abel Tasman)
* New Chums Beach (Coromandel)
* Koekohe Beach (North Otago)
(Source: Outside magazine)