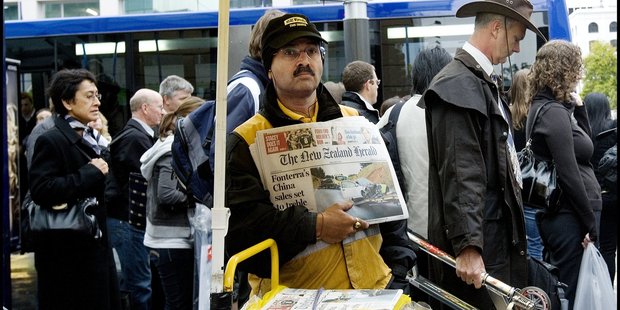 Tomorrow's New Zealand Herald has been 150 years in the making. We celebrate, in style, our official anniversary with a superb commemorative newspaper, additional online content and a free, 108-page magazine devoted to the greatest New Zealanders of each of the past 150 years.
Our special front-page wraparound tomorrow and the magazine cover feature specially commissioned Dick Frizzell artworks of five of those greatest Kiwis. You have the chance to buy one of the Frizzell pieces, with all proceeds to charity. Details on how to bid will be published tomorrow.
The magazine features some big names, and others that aren't so well known. They are a mix of the brilliant, the brave, the inspiring and the surprising - from an 11-year-old girl who saved the lives of two other children, to an 80-year-old tireless marcher in quest of justice.
Herald editors have also chosen the 10 greatest New Zealanders of all time. We picked 10 who, in our opinion, made the greatest contribution to the national story either through shaping the political, economic and social landscape of the country or simply because of their character and their inspirational exploits.
But we want to hear what you think, too. Have we got it right? Find out how to take part in the debate - in print and online - from tomorrow.
We've also compiled, in an A2 poster, 36 of the best and most famous Herald front pages of the past 150 years - from our first edition on November 13, 1863, to the birth last year of the new compact paper - and some of the momentous international and national news events in between.
We also continue our month-long series, the Greatest New Zealand Stories, while our People in Our Past series features the family who launched the newspaper all those years ago.
Plus, we're giving away great birthday presents - including the $71,900 Mercedes-Benz, and fantastic daily prizes.
Don't miss tomorrow's newspaper.