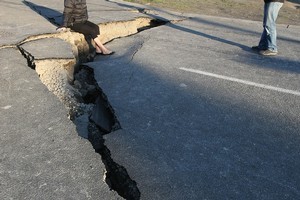 Two families at a welfare centre in the Christchurch suburb of Linwood are battling gastroenteritis.
Health authorities are unsure whether the infection was due to contaminated water, or whether the infection pre-dated Saturday morning's earthquake, Canterbury Medical Officer of Health Ramon Pink said.
It did not appear that the infection was conveyed from one family to another.
Infection control measures were in place and the affected families had been isolated, while tests had begun to try to find the cause, Dr Pink said.
The cases were an important reminder that all water should be boiled, especially any water which came into contact with the mouth, he said.
The communicable disease team at the Canterbury District Health Board was monitoring the outbreak.
No other welfare centre had been affected so far and there was no evidence of spread to anyone outside these two families.
The DHB also announced non-urgent elective surgery had been cancelled for tomorrow.
This included all pre-arranged admissions for Christchurch, Christchurch Women's and Burwood Hospitals. Scheduled caesarean sections and inductions would continue.
The flow of patients to hospital was steady and staff were coping well, the DHB said.
Akaroa Hospital was closed and patients had been transferred to other facilities.
Lincoln Maternity Hospital and Burwood Birthing Unit were also closed until further notice.
Private hospitals have also deferred major surgery to help maintain capacity in the health system.
All main hospital buildings had been checked to ensure they are safe and structurally sound. Engineers will be continuing to work through all facilities identifying what repairs may be required.
Dr Pink said the main public health messages to avoid getting sick with stomach bugs and other illnesses included assuming that tap water is unsafe and contaminated until advised by the council that it is safe.
All tap water should be boiled for one minute before drinking, brushing teeth or washing or preparing food.
Councils will be testing water supplies intensively over the next few days and would advise when water is safe to use without boiling.
People should avoid contact with sewage and assume river, sea water and any other surface water was contaminated with sewage.
People shouldn't swim, fish or gather shellfish in the sea, Canterbury rivers or any areas of standing water until notified.
It was important for people to look after each other and keep in touch with families, friends and neighbours, Dr Pinks said.
General practices and most pharmacies were operating as usual.
- NZPA