With rap sensation Nicki Minaj in town next week, we look back to 1999 when another young starlet, Billie Piper, came to New Zealand and met two of her biggest fans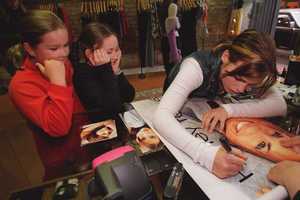 Two starry-eyed schoolgirls waded in with their autograph books the day they met their pop idol Billie Piper.
Pebbles Hooper (picture) and her best friend, Jessica Thompson, were aged 9 when they met the British singer in June 1999.
Piper, then 18, had dropped into World, the Auckland shop owned by Pebble's fashion designer parents Denise L'Estrange-Corbet and Francis Hooper, while on a whistlestop trip to promote her debut album, Honey to the Bee. The album shot to No 3 in the New Zealand charts.
"I can remember the excitement like it was yesterday because at the time I was completely obsessed with Billie Piper," Hooper, now 23, says. "My mum knew she was coming to the shop and gave me the day off school to meet her.
"Billie came in to do some shopping and tried on a lot of outfits including a velvet, Elvis Presley-style number.
"I remember thinking, when I got to her age I wanted to be just like her. She was very sweet to us both."
Piper's musical career burned brightly but briefly. In 1998, she became the youngest artist to top the UK charts with her debut single Because We Want To. Now aged 30, she went on to further fame when she married then split from madcap English television and radio host Chris Evans and launched a high profile TV acting career, starring in Doctor Who and Secret Diary of a Call Girl.
"Jessica and I were beside ourselves when Billie signed our posters and CDs," Hooper, who has her own stationery shops called Pencil, explains. "I think we were so overwhelmed we began to cry."
Both Auckland girls have remained great friends.
Thompson, who works in fashion, recalls being embarrassed she had to wear her school uniform to meet Piper. "My mum insisted I went straight back to school afterwards and I was mortified to be in my uniform because Pebbles was wearing her cool clothes," she says. "That was soon forgotten when I became the talk of the playground because I had got to meet a real pop star.
"All the excitement over Billie faded for me soon after meeting her and after that I didn't really follow her acting career. When she married Chris Evans that was the final straw."