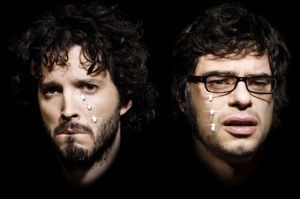 Pre-sale tickets to Flight of the Conchords' upcoming New Zealand shows sold out in just minutes today, with one disappointed fan calling it "madness".
The earlybird tickets, available to Visa cardholders for nine of the 10 June tour dates planned by the Conchords, went on sale at midday today and all were sold out in 30 minutes
That included shows in Auckland, Hamilton, Wellington, New Plymouth, Dunedin and Nelson. Details for a "special" Christchurch show are yet to be announced.
Unlucky fans took to Twitter to express their disappointment.
"Presale tickets for Flight of the Conchords sold out in MINUTES. What is this madness?!" said Gayathiri G.
"Wonder if any Flight of the Conchords tickets are on trademe yet," asked Erin.
Sarah said: "Please refrain from tweeting about how you nabbed flight of the conchords tickets. Jealousy will make me hate you obsessively."
Others proved to be luckier.
"Going to Flight of the Conchords?? Ohhh yes! #happydays," said Hayley.
"Tickets for rare Flight of the Conchords gig secured. I'll be wearing my pretty party clothes crocheted of snow. #FOTC," said Paul.
There has been plenty of hype over the shows, the first in New Zealand by Jemaine Clement and Bret McKenzie since 2009.
"It's going to be great to play New Zealand again. I can't wait to perform where people can understand our accents," McKenzie said in a statement.
The tickets go on general release on Friday, with 300 tickets per show available in person at select outlets from 8am. They cost between $55 and $79.
The Conchords perform on June 13 at the Hawkes Bay Opera House in Hastings, followed by Founders Theatre in Hamilton on June 14, the Town Hall in Auckland on June 16, TSB Showplace in New Plymouth on June 17, two shows at the Michael Fowler Centre in Wellington on June 19 and 20, the Regent Theatre in Dunedin on June 23, the Events Centre in Queenstown on June 24, Trafalgar Centre in Nelson on June 27, along with a Christchurch show at a yet-to-be-confirmed venue.
- Herald online