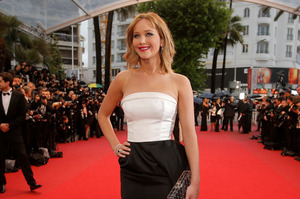 Little could lessen the fever-pitched excitement for The Hunger Games: Catching Fire, but heavy rain nevertheless dampened the film's lavish Cannes party.
Stars of The Hunger Games sequel, Jennifer Lawrence, Liam Hemsworth and Sam Clafin, arrived yesterday at the Cannes Film Festival.
Catching Fire, perhaps more than any other film not actually screening at Cannes, is seeking to use the festival's global platform to promote the highly anticipated sequel.
Digital flame billboards have constantly burned by the Majestic Barriere hotel. The cast posed for photographers and in the evening, Lionsgate held a lavish soiree beside the beach on the Croisette, complete with flowing liquid chocolate and parading models dressed in the film's ornate costumes.
But a planned stunt at the party to promote the film was scuttled due to the poor weather that has plagued the first five days of the French Riviera festival. Lawrence made an enthusiastic appearance, but later fled, grimacing at the cold raindrops.
The film will be released in late November.
- AP