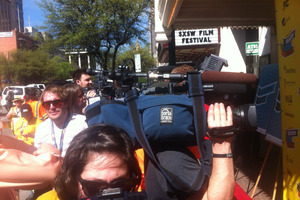 "If you see a lady getting hit by a man, walk away. If you see a man getting hit on by a lady, walk away. If you get involved a fight will break out and the cops will throw YOU in jail."
That was item No. 2 on the four-strong list of must-know information passed on by an Austin cab driver. It's the sort of conversation that would be in keeping with my baseless knowledge hitherto of Texas, but this is Austin. A blue city in a red state.
Friendly as you like.
Just as well, as along with Sam (Wicks, editor of Volume) this will be our home for the next week, to bring you as much information as possible from the South By Southwest (SXSW) music festival.
SXSW is actually three festivals: Interactive, film and music. They all slightly overlap by a couple of days - any city would struggle to host 47,000 registrants all at once.
Actually, calling them festivals is misleading. They're more conferences, with a trade show, product launches, panel discussions, showcases, as well as a mix of official and non-official parties.
Arriving in Austin a couple of days out from the start of the music - to orientate and get set up - meant I caught a couple of the Film Festival events.
I got to experience my first ever proper red carpet, and I got to talk to a Hollywood actress by the name of Anna Hutchison. Imagine Delphi Greenlaw from Shortland Street but without the dark mullet hair style.
Anyway, turns out Anna is doing rather well for herself. Her film Cabin In The Woods opened the Film Festival. Last year Bridesmaids took that spot.
The film is produced by Joss Whedon (creator of Buffy The Vampire Slayer) and directed by Drew Goddard (writer of Cloverfield and co-writer on Lost). I also knew it was a big deal because as we were setting up for the interview in Hutchison's hotel lobby Jonah Hill walked past, pretending not to recognise me.
For lots of giggling and a taste of that American accent - click here.
My first ever proper red-carpet wasn't even for a film after all. But then most television that comes out of HBO rivals film anyway. This new show is Girls, created by Lena Dunham who also wrote and directed Tiny Furniture - a film that also takes a dry humorous look at the foibles of being a young woman in New York City. That young woman pretty much being Lena Dunham.
I "checked in" to the Paramount Theatre about an hour and a half before anyone was due on the red carpet and proceeded to do nothing while others stood around, also doing nothing.
The sponsor wall was erected before my eyes and a tiny little red carpet rolled out. My concern at the length of the red carpet, divided by the amount of crews that were turning up came to a head when a publicist started attaching place cards to the barrier rope. They were A4 pieces of paper so close they may as well have been a pad.
We took our places as best we could, considering we all had tripods, equipment and egos, and then the publicist had a change of heart and started shuffling the place cards around. We all packed up and moved. And again. And again. It was like a press version of musical chairs, except with no music and no chairs.
Finally the time came. Executive Producer Judd Apatow, creator Lena Denham and Executive Producer Jenni Konner all filed past and politely answered my questions.
Judd Apatow even commented that I was the only press on the carpet with proper lighting (can someone at work please make sure the accounts department gets told).
I saw first-hand how publicists gently tap you on the arm, or stand behind the talent and do the wind-up signal. And I met Judd Apatow (Knocked Up, Bridesmaids, 40 Year Old Virgin, The Larry Sanders Show, Freaks and Geeks, etc, etc).
But I'm here for the music, with Cairo Knife Fight, Electric Wire Hustle, Unknown Mortal Orchestra, Kimbra, King Kapisi and Avalanche City all in attendance.
Better go get ready. If I could just get this BBQ brisket out of my teeth...
* Girls will screen on Soho Channel later this year.
Hugh Sundae travelled to SXSW courtesy of STA Travel.