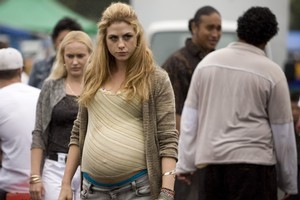 Rating: 4/5
Verdict: Small and rewarding
The multi-strand narrative is a cinematic device so well-worn as to verge on cliche: it has been widely and effectively used by directors as various as Robert Altman (Nashville; Short Cuts), Michael Winterbottom (Wonderland), and Alejandro Gonzalez Inarritu (Amores Perros; 21 Grams).
So in employing the technique the debut feature by Bennett, a small-screen veteran whose credits include eps of Outrageous Fortune and Mercy Peak, doesn't exactly break new ground.
But it achieves its modest ambitions with considerable assurance, delivering a touching series of intersecting stories about the fragility of life and the redeeming power of love.
Its success is in part down to the work of an excellent ensemble (the actors' names are deliberately listed in alphabetical order above since the story's central figure varies minute by minute and the novices give the veterans a run for their money) and a script that is dramatic and affecting without ever being forced.
The story has its roots in a short solo theatrical piece by Ah Hi (who has a key role) about a Tokelauan boy in Otara who channels the master fishermen of his ancestry into his illicit profession, fishing for cars in an urban sea.
But Bennett and co-writer Gavin Strawhan, in repeated drafts over several years, opened it out into a film about eight people whose lives are are affected by a random act of terrible violence.
The spine of the story is the decision of one character to intervene in a fight, whose tragic consequences ripple out through a group of people - some connected, some not, to that singular act: a woman (Wiseman), who must learn to accept the love she is offered; the car thief (Wu), who crosses paths with a malcontent overachiever Chinese teenager (Tang); a pregnant youngster (Bushnell) who has to cut herself free of her drug-addled boyfriend (Whalley).
The plot has a few jarring improbabilities: disposing of a body without reporting the death, even when it is of natural causes, is both legally perilous and dramatically dodgy and I'm not sure police get their colleagues to act as bouncers in uniform in a family dispute.
But these are quibbles in the larger scheme of a film that tells a story firmly rooted in the way we live now. Coming on the heels of the improbable charmer The Insatiable Moon, this is another small but accomplished local movie that is well worth attention. And the Don McGlashan score is a cracker.
LOWDOWN
Cast: Iaheto Ah Hi, Alix Bushnell, Vela Manusaute, Jarrod Rawiri, Mark Ruka, Susana Tang, Michael Whalley, Sara Wiseman, Edwin Wright, Jason Wu
Director: Michael Bennett
Running time: 92 mins
Rating: RP13 Violence, drug use and offensive language