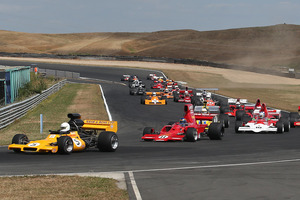 The two New Zealand motorsport enthusiasts who created Hampton Downs are seeking both national and international investment to secure the long-term future of the 350 acre Motorsport Park, located 60km south of central Auckland.
Tony Roberts and Chris Watson have begun a campaign to find interested parties to either purchase or further fund the motorsport facility.
"In order to develop Hampton Downs and take it to the next level, additional funding is required and this investment needs to come from an outside source,'' Hampton Downs managing director Tony Roberts said. "Chris Watson and I have taken the dream about as far as we can on our limited resources.
"In the meantime it is business as usual at Hampton Downs. We will continue to operate and provide the first-class motorsport experience motorsport enthusiasts have enjoyed over the last four years.''
The facility is operating successfully and running at near capacity with more than 330 days per year of usage.
Roberts said the next logical step was the development of the 1.2km track extension, which would give drivers three track options (2.7km circuit, 1.2km club circuit and the full international 3.8km circuit) as well as the development of corporate suites and completion of the race control tower.
Since its official opening in January 2010, Hampton Downs has hosted some of New Zealand's biggest motor sport events, including the New Zealand Festival of Motor Racing, the International Toyota Racing Series, V8 SuperTourers, the Roycroft Vintage Car Festival, the Chrome Hot Rod Festival, D1NZ Drifting, the New Zealand Superbike Championship and the Barry Sheene Classic Bike meeting.
Late last year the Waikato District Council approved plans to allow daily spectator numbers to increase from 20,000 to 50,000 for major events.
- APNZ