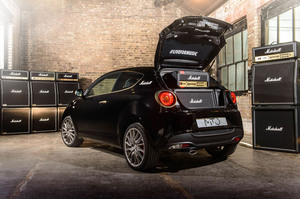 Cars and guitars -- we have covered this before; they just go together. And Alfa Romeo certainly think so, if their two latest collaborations are anything to go by.
Alfa have teamed up with UK-based custom guitar builders Harrison Custom Guitar Works to build a low-volume run of exclusive guitars and Marshall Amplification to create the one-off Alfa Romeo Mito by Marshall concept car. To quote Bill and Ted: Excellent!
The car is a one-off concept that is basically a little Mito with a serious Marshall amp jammed into it, or as Alfa Romeo prefer to put it; "a bespoke Marshall JVM 50 Watt amp head running two 12-inch 75 Watt speakers, custom built into the boot".
Externally, the Mito By Marshall features the same gold panel finish as Marshall's equipment on the grille, front and rear headlight surrounds, door mirror covers, door handles, side door trim and lower bumper trim, while on the inside the Marshall styling continues with Marshall tread plates on the door sills and Marshall's distinctive white piping around the dashboard's centre console.
The seats have been upholstered with the same materials used on Marshall amps, including grille cloth on the seat centres and white piping around the inner seat contours, and in a further musical nod, the gear knob has been replaced by a Shure SH55 microphone, with the gear layout engraved into the top of the head.
The guitar -- called The Alfa Romeo -- integrates "traditional craftsmanship with performance materials such as carbon fibre and aluminium" and will cost a hefty £4000 ($7764). Each guitar takes eight months to create and just 11 will be made. No, not as a tribute to legendary fictional band Spinal Tap's amplifiers (that went up to 11 as opposed to the more traditional 10), but rather to signify Alfa Romeo's 11 decades of continued existence.
The Alfa badge on the guitar doubles as the volume knob, while the custom pickups, bridge and tailpiece all make up the bars of the Alfa grille design that forms the guitar's overall shape.
Given all the talk of Alfa's "heritage" in the accompanying press release, The Good Oil can't help but wonder if that means when you plug it in to an amplifier an unspecified warning light pops up with a vague laert about something electrical going badly wrong while it produces a strong and unnerving smell of melting plastic before bursting into flames. We do have to admit that would actually be pretty awesome at the end of a face-melting solo though ...

The perfect investment opportunity
The crowd-funding website Kickstarter has seen all sorts of wonderful things come to life thanks to funding gathered from like-minded individuals, but this is probably the best thing ever (if it gets funded, that is): a 21m tall, diesel-powered, VW Beetle-juggling robot. Yes, really.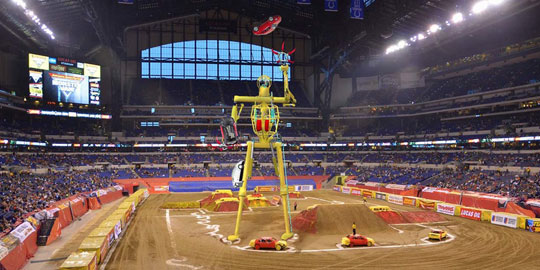 A clearly awesome (and possibly crazy) bloke called Dan Granett is seeking US$2.3 million ($2.6 million) to build the "BugJuggler" that will be equipped with a control interface that will allow a human to operate it.
"My background in Nasa and LA movie special effects and 35 years of making gadgets gives me confidence that this can be built from mostly off-the-shelf tech," Granett told US website Gizmodo.
A committed man, he is also learning how to juggle so he will be able to operate the robot.
"Fortunately, there is a clown troupe next door here in Berkeley and they are teaching me to juggle," he said. "The designer of a potential dangerous new device needs to be the first to use it in case of flaws."
Erm ... fair enough?
Shelby has a cleanout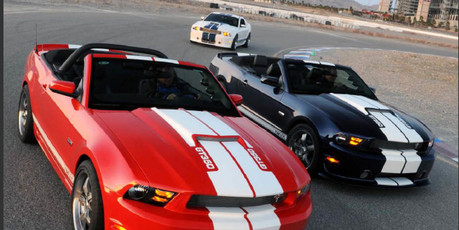 Normally when a carmaker is finished with a concept car it tends to disappear into storage, destined to gather dust, or be put on display at the manufacturer's museum.
But occasionally the manufacturer will have a clearout - a large-scale garage sale, if you prefer - and unload a bunch of them. Which is exactly what Shelby American is doing.
The company, founded by the legendary Carroll Shelby, is moving from its premises at Las Vegas Motor Speedway to a new headquarters just off the Las Vegas Strip, so it is selling off 14 of the rarest cars in its collection.
Rather obviously the collection is made up mostly of Mustangs, including three Super Snake concepts from 2010-11, a 2011 GTS, four GT350 prototypes from 2013, a Shelby GT prototype from 2007 and a Shelby GTS Wide Body prototype from 2012.
There are also a number of other cars on sale, including a pair of 289 Cobras, the 2013 Shelby Raptor concept and a Focus ST concept.
It must be a heck of a collection if these are the cast-offs ...
The bed of your dreams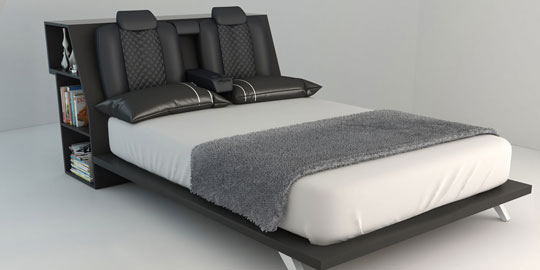 Let's be honest here guys, if it wasn't for women all men would sleep in car-shaped beds.
But because women find car-shaped beds "childish", or "stupid", we can't.
But now there is hope, because furniture maker Morgann Paull is producing a bed that, while it doesn't exactly look like a car, boasts a number of features that you would find in your car.
The Consolatio Car Bed features two leather seat backs mounted on the headboard for watching TV or reading, while the fold-down armrest has two cupholders in it and there are extra storage cubbies behind the headboard.
"I actually got the idea initially while at an auto salvage yard looking for parts for a 1977 Jeep CJ7 that I own. As I was leaving the yard, I saw the back of these really nice black leather seats and thought, that would make a really cool headboard," Paull told US website Autoblog.
It does sound rather cool.
But we have to admit that at US$3999 ($4570) it is a pricey bed, even for one with cupholders .
We are the world
•A Florida police officer lost his job after he took a pair of drunken friends on a cruise through a bar district and let them use his car's PA system to heckle the public. Apparently the Fort Lauderdale police department was flooded with calls from concerned members of the public who thought the patrol car had been stolen.
•Chinese man Yu Xinquan did something rather unusual when he took delivery of his brand new Tesla Model S - he grabbed a wrench and smashed the windscreen.
Why? "It's a protest against the company," Yu told reporters coincidentally on hand. "Tesla's arrogance made me angry."
That'll teach 'em.
Number Crunching
1003 CARS
The number of Cobras built by Shelby American since 1962.
13,912 CARS
The number of Mustangs built by Shelby American since 1965.
6CARS
The number of Daytona Cobra Coupes built in 1964-65.
1 CHAMPIONSHIP
The number of World Sportscar Championships Shelby won.