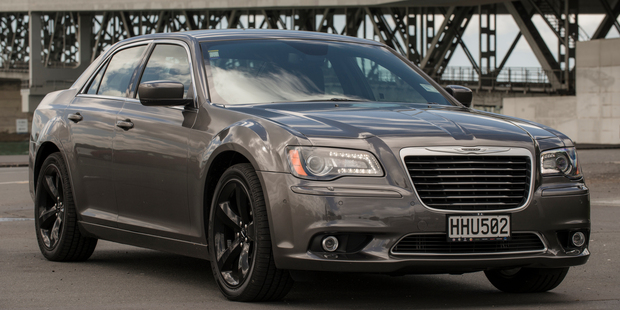 Style versus substance - it's never an easy equation to solve, especially in the automotive realm. All too often those who aren't smitten by savage powertrains and willing to accept monumental fuel bills are penalised with a choice of fairly mainstream options.
Chrysler has filled the gap between its large 300C sedan and its firebreathing SRT8 stablemate with the 300S - all the bling but without an engine that gives a less-than-subtle two-fingered salute to the environment and a whole heap of profit to the oil companies.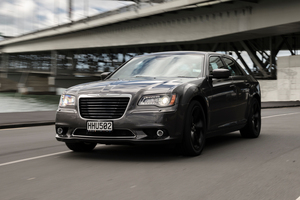 The big 6.4-litre V8 has been replaced by a far more sedate 3.6L six-pot, but the 300S still has the gangster looks that make the big beast such an object of desire.
With this downsized donk comes fuel consumption that a week at the wheel revealed to be surprisingly light unless really pushed for long periods. The factory fuel claim is urban/country combined of 9.7L/100km, while the SRT8 guzzles 13L/100km combined (including a servo-loving 20.4L in town, even with a fancy cylinder shut-off), and with emissions that make dolphins sad.
While the less sensible choice would undoubtedly be the most thrilling, there are arguments against large displacement V8s - I'm sure the guy with a 6.4L Hemi has a very different facial expression to that of the 3.6 owner after a visit to the service station. As the bulk of our driving lives are spent either in traffic or on our way to more traffic, there's a lot to be said for 12-odd litres every 100km. But there is the sound of an angry Hemi to consider, and while the six sounds good, deep and dependable, it'll always sound like a six.
For those willing to drop a couple of cylinders for fuel fill sanity, opting for the S gives a fat wallet's worth of savings - a $62,990 price tag compared to the SRT8's $87,990. (Although for those happy to forgo leather and other niceties, there's the stripped-back SRT8 Core around $75,000.)
The price tag and non-eight engine in the 300S has one important knock-on effect - it puts the car in the "user chooser" realm of lease cars, allowing some exec types with a bit of company car leeway to avoid drowning in beige and mediocrity.
And with the onset of Oz-model doom across the Tasman, without jumping into a Euro this is probably the best option.
Inside, the 300S is a world away from boring. Leather seats, nice chunky leather steering wheel, blue-lit gauges with adjustment from retina-burn back to Magoo.
It has Chrysler's UConnect system - which ties in radio, Bluetooth streaming, phone controls, navigation and other must-haves.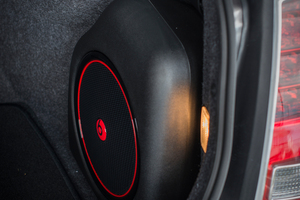 Vehicle info such as fuel consumption, trip details - even engine run time - is fed through a small, clear LED screen between tacho and speedo, with controls on the steering wheel.
A Beats By Dre speaker system allows for them block rockin' beats, and does it well, although the large red logo and its abundance throughout the otherwise black-and-blue interior does ensure maximum brand exposure.
The trans tunnel - with its eight-speed hiding beneath - creates a large amount of storage between the front seats, plus USB charging etc, and a pair of cup holders which can be switched to keep your coffee cold or your coke hot.
The six-cylinder itself is a lazy-revving unit, with those eight cogs to pick from, but it can be shifted into sport mode for a bit more spark, and shifted manually. The steering wheel-mounted paddle shifters do give a greater feeling of control, but the trans is smooth and responsive even in auto. The Pentastar V6 develops 210kW and 340Nm - a far cry from the 347kW/630Nm combo from the stroppy Hemi.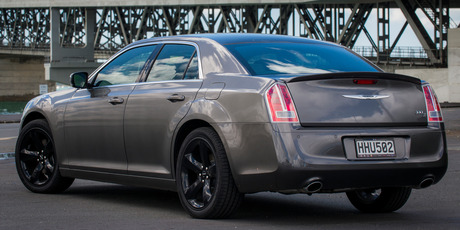 While the 300S and its sporty take on Chrysler's star saloon aren't going to be setting Nurburgring records, the suspension changes since the last model have transformed its on-road behaviour. Self-levelling rear suspension helps keep that fat bum from stepping out too radically, and the whole package adds up to a great cruiser for Kiwi roads, even at nearly two tonnes, but one that can provide a bit of fun should the need arise. But the SRT8, on the other hand ...