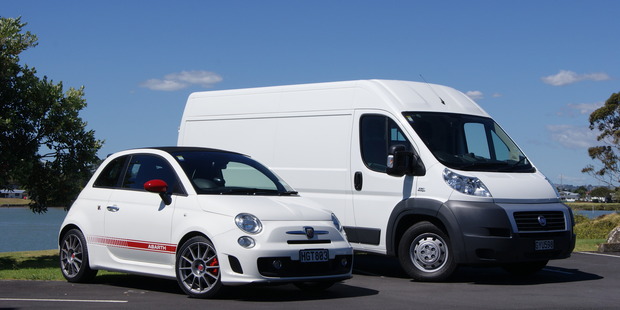 The Fiat Ducato is a better urban proposition than the teeny Fiat 500 It is well known that Fiat makes vehicles that are ideal for congested urban conditions. What is not quite so well known is that the best of them is undeniably the Ducato van.
See what I did there? Made you think immediately of the teeny-tiny 500 hatchback and then twisted things around. But it's true, because I've been driving a Ducato Maxi long-wheelbase mid-roof (that's Italian for "high roof" apparently) for a week now and it's been just the business for inner-city Auckland. Far superior to the other Fiat I've driven recently, the 500. I reckon the Ducato succeeds where the 500 fails in just about any city-driving problem you can think of. Parking is the really big one, of course. There are too many cars and not enough spaces and that's a fact of urban life.
But there are these things called loading zones in the city. A lot of them, actually, and if you have a massive white van you can park in loading zones while you pop into a shop and no parking warden will take a second look.
You're in, out and gone while a passenger car is still circling the block looking for that elusive metered-parking opportunity.
I may have offended delivery and courier drivers at this point and I do sincerely apologise. It's just that I've been jealous of your vehicles and jealous of your parking spaces for Biggie is beaut in urban zone
The interior of the Fiat Ducato van really needs a reversing camera.
Fact is, the bigger the better in town.many years and the temptation to try it all out was too much. I know I'm not really supposed to park there if I'm not actually loading or unloading. But boy, was it good. I didn't stay long. Up into the cab and on to the next one - next loading zone, that is.
But a Ducato is too large to be a practical urban vehicle, I hear you say. Wrong. It's certainly big: 6m long, 2m wide and a wheelbase that's longer than an entire Fiat 500. Fact is, the bigger the better in town, because while city cars are jostling for space in bumper- to-bumper traffic, merging opportunities open up like magic when you're towering over everybody in a small white office block on wheels.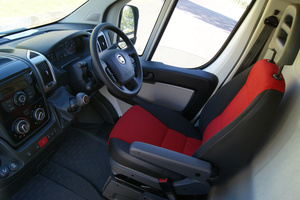 It's true that intimidation of other motorists is not cool and I did not do it deliberately. But I'm not responsible for others' fear of a wheeled mega-fridge at close quarters. I don't make the rules, I just profit by them.
I will admit that actually manoeuvring the Ducato into a tight space can be tricky work because it desperately needs reversing radar or camera on account of its length and limited visibility, although you do at least get a viewing portal at the back of the cabin.
I'm sure that proper van drivers are scoffing at my lack of driving skill over this - from what I've seen, most know every millimetre of their vehicles. But in my defence, a colleague was driving a similar-size Renault Master this week (we did not have van races, honest) and it had a nifty camera screen in the sunvisor to assist with reversing. So it's not unheard of in this segment.
In every other respect the Ducato is a joy to drive, even for the most car-centric operator (that's me). It's a big, empty light commercial so it's bound to sound a bit, well, vanny inside. But the steering is sweet, the powertrain is great and even the chassis can handle a bit of speed - not that you need to worry about that in the city. Stability control is standard.
The Kiwi-market Ducato has an upgraded multijet turbo diesel that now meets Euro V emissions standards. It makes 96kW/320Nm - less power but more torque than the 500 Esseesse, in case you were wondering.
Oddly, the steering wheel adjusts for reach but not height. With cars it's often the other way around. The driving position is commanding and you can enjoy the comfort of a fold-down armrest attached to your seatback.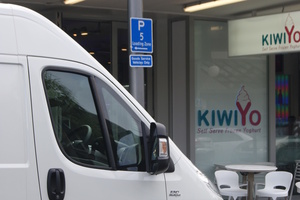 Ours was a two-seater, but you can have the option of a third centre seat, which would have made the Ducato not only the perfect vehicle for city driving but also for my school run. The children were very disappointed.
The Ducato does share one thing with the world's greatest sports cars: the dash-mounted gearlever is only a handspan away from the steering wheel, just as it would be in a sports car where the seat is low and the transmission tunnel high. It's a good manual gearbox at any rate, with short throws and a smooth action. It's fun.
The interior of the Ducato could be called snazzy. The architecture is extremely car-like - if scaled upwards - and even sports some flashes of silver bling. The audio fights a losing battle with engine and road noise, but it's iPod-compatible and you get other goodies that include cruise control, decent air-conditioning and even a refrigerated glovebox. And red seats; don't forget the bright-red fabric on the seats.
The Ducato is certainly one of the more outlandishly stylish vans around and you can even get it in interesting colours, including bright red, several shades of blue, subtle cream and rock-star-roadie black. All very nice, but it really needs to be white for maximum urban credibility.
As an option there's a dedicated TomTom sat-nav unit that fits into a special dock atop the centre console. Or a tiny desk-stand that sits in the same place, which doesn't sound like as much fun but might be quite useful.
For the $59,990 price of this Ducato Maxi you can have a very fast little 500, the $46,990 Esseesse, and quite a bit of change. Or an entry-level 500 for $19,990 and possibly a whole other car.
Both 500 and Ducato offer an inordinately high ratio of smiles for kilometres. But when it comes to tackling Friday traffic and finding a parking space, I know which is worth the money.