Beemer 4WDs are a hoot in the snow-covered mountains, says Damien O'Carroll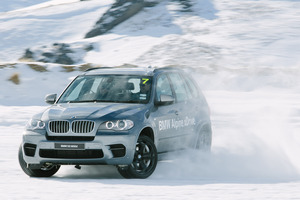 Snow. Those of us who grew up in the northern parts of the North Island have no interest in the stuff. To folks south, it is that cold substance that can knacker sheep when it falls in vast quantities without warning.
One thing we can all agree on: you don't really want to be spending too much time driving on snow. After all, it is slippery and you have to go slow on it, therefore it cannot be fun.
But that's where you would be wrong - driving on snow is massive fun. Now, while it is traditionally accepted that Germans are a little too serious to be considered leaders in the field of "fun", they do know how to have it. They just take it seriously.
BMW are a good example of this. They make excellent cars it is possible to have incredible fun in. But they are serious about them, which is probably why BMW do their Alpine xDrive Experience. It is fun in a serious, educational disguise.
Well, there is that and the fact it shows off BMW's remarkably capable xDrive 4WD system in the best possible way.
That surely couldn't hurt either.
Open to anyone - not just BMW owners - the BMW Alpine xDrive Experience is a $2000 package that includes two nights at the Millbrook Resort in Arrowtown, while the actual driving takes place at the incredible Southern Hemisphere Proving Grounds at the top of the Pisa Range near Cromwell. Plus there's the best possible transfer to the Proving Grounds - an early morning helicopter ride.
Our day started with clear weather and 5cm of snow overnight. The helicopters whisk us up to the Proving Grounds in spectacular fashion. Nothing can make you feel more like the mid-1990s version of James Bond than a helicopter ride up to a line up of the latest BMWs at a top-secret testing facility.
It turns out we even have our own version of Q - Dieter Schoner, a driving instructor from BMW Germany. He is living, precisely regulated breathing proof that Germans take their fun seriously and his inability to understand why, after having explained it to us once, we can't precisely replicate his instructions is a constant source of entertainment to us. And frustration to him.
After a few laps of relatively gentle driving on a snow-covered road to get a feel for it in the BMW 330d Touring xDrive, we follow Schoner to the J-turn exercise, our first real slidey experience of the day.
Driving in reverse until you hit 50km/h, whereupon you flick the car around by suddenly turning the steering wheel 360 degrees in one direction, then back 360 degrees in the other, while flicking the gear lever from reverse into neutral, then into drive when you are going forward again sounds relatively simple. But when it all happens at once it is not so easy.
The fact that I don't turn the wheel a full 360 degrees is a source of frustration to Schoner and my attitude of "it was enough to get the job done" does not help calm him in any way.
Next up was the slalom, a slippery mongrel of a course that rewarded patience and restraint. Needless to say, Schoner's Teutonic calm was again strained and his clearly practised mantra of "there are two ways to do a slalom; the fast way and the spectacular way" is repeated many times. Usually through a grimace and eventually followed by a resigned "you clearly prefer the spectacular way". Lunch sees sweet relief for Schoner, as following it the two groups swap over and our instructors for the afternoon are racing drivers and BMW NZ instructors Mike Eady and Martin Collins.
Eady hints that Schoner might have an easier afternoon of it when he makes the statement that anyone who spins on the drifting exercise we head for first has to buy him a beer and, so far, he is only owed two. This casual, amusing aside will begin to worry him before the afternoon is out.
The main idea of the drifting exercise is self-explanatory - we are to attempt to drift the X3 330d we are now in around a large circular skid pad. Getting it thoroughly sideways on purpose, the very thing Schoner was trying to stop us doing all morning. Excellent.
Following the drifty fun we head over to a small, tightly laid out track for some more sideways "catch the bloke in front" type fun. Now we are in the ridiculously powerful X6 M50d and sideways hilarity ensues.
By now Eady is regretting his "one spin, one beer" policy, as he is owed roughly 26. I suggest he might not be feeling too well tomorrow if he cashes them all in that night.
Following a brilliantly long time on the tight track it is time for Eady to show off by taking us for a full-noise blast in the RWD M3 he has been in all day. This is a fully sideways (everywhere), completely unforgettable ride that is over all too soon and we head to the bus for the ride back to Millbrook.
Personally I cannot think of an interesting, educational experience that is better at being fun. It is an absolute blast from start to finish and well worth the $2K that BMW ask for it and when it is announced at dinner that night that I was second fastest around the slalom in our group, I see a small, wry smile flicker across Schoner's face, confirming that, although he is very serious about it, he knows it is all about fun too.