Honda's CBR500 looks like a show-off, but is a well-mannered mount, writes Jacqui Madelin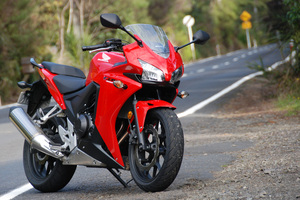 Head tucked down behind the fairing, elbows out and throttle pinned at 7000rpm, I wonder whether this could be New Zealand's perfect bike - at least for a rider seeking an affordable all-rounder that'll deliver easily accessible fun.
It's not loud, it's not especially powerful, but Honda's $10,495 CBR500 was a barrel of laughs on the bendy roads around home, just as happy on highway as byway and as nimble round town.
Better still, its candy-red bodywork drew universal admiration, masking the engine's relatively modest size and rather comfy semi-upright riding position by mimicking a more sporting bike, the hard-core CBR600 perhaps, and thus imparting a rortier image than the reality.
Given the winter conditions, I was glad it wasn't the hair-trigger 600, which is liable to turn feral when surfaces get slippy.
I had initially feared the modest power figures would make for a snooze of a ride.
I needn't have worried, for Honda designed this 471cc parallel twin engine to deliver its best at low and medium revs, which means you're sitting on the 43Nm torque peak at 50km/h and 7000rpm in first, holding it there at 70 in second and still riding that wave at 100 in third, the motor positively thrumming with delight at legal speeds and the 35kW power peak hovering just 1500rpm up the dial with three gears to go.
Meanwhile, the front forks and Pro-Link swing-arm rear suspension got on with soaking up potholes, corrugations and bumps, keeping the rubber down and conspiring with that relatively relaxed riding position and wider bars than are fitted to hard-core bikes to let you make the most of each ride.
It's just as happy around town, where the flexible engine and the relatively upright rider's stance - for a nominally sporting bike - impart control and keep you comfy over longer distances.
The CBR500 rider can tackle those distances, too. A CBR600 is only at home at high speeds, crucifying wrists and shoulders with its head down, bum-up stance; it makes sense at a track day while the 500 skulks in the car park. But those roles reverse on the ride home or on weekday commutes.
This was a deliberate strategy by Honda, which wanted a frugal, fun bike that'd sell anywhere from London to LA and Hanoi to Hong Kong. The parallel twin format is compact, lightweight and flexible, thanks in part to lessons Honda learned from its other machines - the CBR600RR's compact crank and bore, and the 1000's oil pump structure were among those referenced.
The 790mm seat height and narrow waist mean shorties can get comfy while taller riders aren't too cramped; the 194kg weight is easy to manoeuvre, won't over-stress the motor or get in the way when you're flicking through sinuous bends, and the brakes are more than capable.
This CBR500 is one of a trio that use the same drivetrain and frame with enough changes to bars, bodywork and ancillaries to deliver three flavours from one basic recipe designed for global appeal.
So the CBR, with its racy-looking bodywork sits beside a CB naked bike and the X dual-purpose variant.
For all its strengths, the CBR may be the weakest of the bunch, at least in New Zealand, for its looks suggest a power it cannot deliver.
Although it's an involving ride, accessible both to learners, and more experienced pilots who can overlook the modest power to appreciate the delights of flexible performance on a demanding road, I suspect the CB's wider bars and X's cross-country format may prove an even better match for Kiwi conditions.