Riding in style for that trip to the ski fields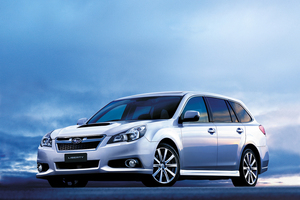 One of the most intriguing aspects of the new vehicle motor industry is that it never stays the same for long. New trends develop and evolve quickly and while manufactures often beat their chests about their latest point of difference, it is never too long before their competitors, keen to grab an additional share of the market or retain what they have, are in hot pursuit coming up with their own versions of a popular concept.
The SUV 4WD styled vehicle is a good example. The introduction of the Honda CR-V and the Toyota RAV4 in the mid-1990s changed it dramatically from a large, heavy and cumbersome bush-basher, fit only for the real outdoorsy Kiwi bloke, into a Remuera taxi.
Honda summed up this class of vehicle when it came up with the acronym CRV, which stood for Comfortable Recreational Vehicle.
Toyota and Honda changed the New Zealand motoring landscape with their own versions of an uncomplicated four-wheel-drive system while retaining car-like driving characteristics plus elevated seating and user-friendly interior space.
It didn't take long for Kiwi motorists to work out that this user-friendly concept was all that was required for most of their driving needs.
Those who travelled on some of the country's more remote unsealed roads also found them ideal as did many who made the occasional trip to the ski fields in winter.
In light of this successful concept it wasn't long before other manufacturers jumped on the band-wagon and came up with their own versions of a 4WD Comfortable Recreational Vehicle.
Now, almost a third of all new vehicles sold in New Zealand are SUVs and almost every new-vehicle distributor has at least one example in their showrooms.
But now the pendulum has swung in another direction with a growing trend to offer buyers an SUV model without 4WD. Similar to the change in the mid 1990s, it has been
determined that not every motorist wants or requires 4WD, full stop.
This often converts into less weight, therefore improved fuel consumption, a drop in engine size and reduction in price. Great for around-town driving but hardly the vehicle that was once touted as being ideal for both trips around town and to those out-of-the-way places including ski fields where drive to all four wheels is often critical.
So all future potential new and used car buyers be warned; it is never safe to assume every SUV has 4WD in any form.
The one manufacturer that has stayed true to its core values is Subaru with a strong commitment to its all-wheel-drive (AWD) technology.
Rather than offer non-AWD options (apart from the recently introduced BRZ sports car), Subaru have taken the approach of continued improvement and worked hard to refine their unique strengths and point of difference.
Safety remains a key development factor for Subaru (all current new Subarus enjoy a five-star safety rating) combined with ongoing refinement to its Symmetrical All
Wheel Drive (AWD) system. This, according to Wallis Dumper, Subaru NZ's managing director, keeps Subaru a sustainable step ahead of other brands.
''They all have safety top of the list but don't deliver model ranges with AWD as standard,'' said Dumper when talking exclusively to Driven.
So what about that long-held view by many ''experts'' from within and outside the industry that, while Subaru's AWD system is a brilliant concept, fuel consumption has
always suffered as a result?
''The fuel economy fight came on strong when oil barrel prices skyrocketed around the GFC time but luckily for us Subaru were developing a new drive train system linked to our
unique boxer engines that was revealing fantastic fuel economy results,'' said Dumper.
While this system operates similar to the increasingly popular Constant Variable Transmission (CVT) used by other manufacturers, Subaru NZ make a very strong point
of highlighting their automatic transmission is unique.
''It's a chain link-driven system that is very linear in its driveability and thus marketed as Lineartronic,'' said Dumper.
The Subaru Legacy has long been regarded as one of the vehicles of choice for those into regular trips to the ski fields. Its AWD capabilities are ideal for the extreme winter conditions while their one Achilles heel, high fuel consumption, was almost accepted as part of the brand ownership.
A flood of used imports has also provided the ski bunnies with more choice, which has been both good and bad for the brand in New Zealand. Old and poorly serviced Subarus were never cheap to maintain and the boxer engine does have that air of mystery about it for many corner garage mechanics. But overall, owners have always loved them for their point of difference and peace of mind, especially when travelling in conditions where AWD was most beneficial.
The current model Legacy should therefore not be required to sell itself as an ideal vehicle for the ski fields; that should be a given. Or simply look no further at the vehicle of choice for many businesses that make a living on the ski fields around the central
North Island. It is invariably a Subaru.
So the real R&D challenge was to add extra benefits of ownership and to sharpen up on those negatives so the vehicle could be enjoyed in all seasons by a range of different owners without any disadvantage.
So how does the current model Legacy measure up if driven on the hard seal or taken on the occasional well-maintained metal road?
Driven was keen to find out and decided to put one of the Lineartronic variants through its paces. We were especially interested in seeing if we could achieve, or better, Subaru's
claimed fuel consumption figures.
Subaru NZ provided a Legacy 2.5i Sport Wagon (127kW/235Nm) with a combined (urban and highway) claimed fuel consumption of 8.0l/100km. Our drive programme took us across the Coromandel, including a 25km stretch of freshly upgraded unsealed road from Tapu on the Thames coast to Coroglen (approx 18km south of Whitianga), short/cold runs around Whitianga, plus an overnight stay at the beautiful Opito Bay (partly unsealed
road) before heading back to Auckland via Tairua and the Kopu/Hikuai Hill.

To give the test a feeling of realism, the Legacy was packed with gear that most couples would add for a weekend ''roadie'' including a bike attached to a towbar-mounted rack,
the air-conditioning was on at all times, and the open road speed limit was maintained as much as possible.
The Legacy was in its element on the metal road, with the AWD providing a noticeable firm grip on the loose road surface at all times. The transmission also showed its
versatility by seamlessly working with the engine and coping with the constant change in road speed as blind corners and one-way bridges were negotiated. The other notable
positive was the lack of in-cabin rock-and-roll that many other SUVs with a higher seating position tend to give.
Overall fuel consumption after 440km was 7.6l/100km with a consistent low in the mid to high sixes on the open road. There is no doubt the Lineartronic transmission has helped put to bed that one outstanding negative the brand has been tagged with for so long. But the real positive is the Legacy is no less exciting to drive and competes on an
equal footing with all other similar -sized new SUV offerings on the market. And it runs on the cheaper 91-octane fuel.
Certainly an ideal vehicle for the ski fields but equally at home around town and urban streets, the Legacy is very much a Comfortable-Recreational-Vehicle.
The Legacy range fitted with the Lineartronic transmission stretches from the 2.5i Sport sedan up to the 2.5i premium wagon. Retail prices, which exclude on-road costs, start at
$48,990 and top out at $53,990. All come standard with a host of in-cabin features including a very clear in-dash reversing camera.

Tips for driving to the snowfields
* If conditions are severe then delay travel plans until things improve.
* Get regular updates on the weather conditions.
* Drive expecting the unexpected.
* Never be over confident of your driving ability regardless of the vehicle's on-board safety features.
* Drive with a bigger than normal gap to any vehicle in front of you.
* Make every effort to be seen by other road users drive with lights on.
* Avoid sudden steering movements.
* Avoid sudden braking and acceleration.
* Always look further ahead than normal and anticipate change.
* Use the car's air-conditioning system to help dry the interior and to keep the windscreen clear.
* Look out for black ice more common in shaded areas or around lakes.
* If you start to lose control, lift your foot off the accelerator and turn the steering in the direction the vehicle is moving.
Vehicle checks before departure
* If you take snow chains then make sure they are fit for purpose and practice fitting them in the comfort of your driveway or garage before departure.
* Pack gloves and appropriate warm clothing with the chains.
* Have the vehicle serviced and ask your garage to pay particular attention to:
* Tyres (condition and tread depth).
* Battery.
* Brakes.
* Cooling system (including the inhibitor/anti-freeze condition).
* Windscreen and wiper rubber condition.
* Air-conditioning performance.
* Drive belts tension and condition.