The throaty, bad-boy 'brrrap' of the V7 Stone will turn heads in the carpark, writes Jacqui Madelin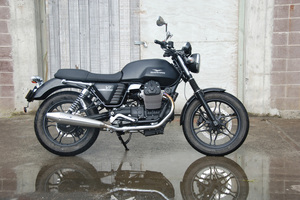 Moto Guzzi's V7 Stone might look like a compact beast but, by golly, it's assertive, and not just because the test bike's matte black paint suggests you wouldn't take it home to mother.
In this case, the OTT equation gets a boost courtesy of the aftermarket pipes fitted - a set of Zards that impart a raucous, ready-for-anything, black-tee-and-tats throaty bad-boy brrrap that'll turn heads in the carpark, let alone the open road, before settling into a whumpa-whumpa idle.
Blip the throttle and the good news continues, for Guzzi's across-the-frame vee-twin imparts a side-to-side throb that suggests you're riding a two-wheeled Mustang, not a modest 744cc, and perhaps I should have been nervous, given wet roads strewn with autumn debris.
But I recalled the V7 I rode three years ago as a relatively underpowered beast - characterful and easy to like, and with nimble handling and a tractable motor but hardly a handful, and I half expected this machine to be a cosmetic overhaul of that any-roads, any-weather beast.
Except there's a whisker more to it this time, for the 90-degree V-twin's basic format may retain links to its 1977 originator, but it's had a mighty overhaul for 2013 with some 70 per cent of its components replaced.
Moto Guzzi further fettled the fuel injection, played around with the engine management and boosted engine compression in a bid to lift bottom-end power and efficiency. Torque's up 10 per cent to 60Nm, power's a smidge higher and I'm told tailpipe emissions are cleaner, too.
I suspect you'd have to ride them back-to-back to notice the tiny difference 37kW makes over the predecessor's 35.5, but my notes no longer hint at asthmatic delivery, for the better bottom-end punch suits the bendy roads around home, while this motor's low-revs muscle makes it a tractable beast when the road gets slippery. It also encourages a short-shift approach to the five-speed 'box that has you shifting quickly to the best gear for the road ahead - then riding it on the throttle, slowing under generous engine braking, tipping in deep, then hauling out on a surge of torque.
Sure, there are gruntier bikes around, but the V7 makes the most of what's on offer; at 179kg it's a relative lightweight and unsprung mass is low. The suspension proved compliant for my weight, and the wide bars and fairly upright riding position impart an almost dirt-bike riding geometry that encourages steep lean angles, and boosts confidence when rounding a corner and scattering unexpected debris.
And then there's the soundtrack ... it's lost on the motorway, a good thing as this Guzzi cruises smoothly enough to tour. But drop the revs as you fire it through a set of bends and it bellows like a stag, delivering a side-to-side pulse at every blip of the throttle and more pops and bangs on the overrun than the 1812 overture.
The original V7 was an engaging and stylish all-year, any-roads bike with a rakish classic air and the character to see off the similarly focused but less involving Triumph Bonneville. I'd still like a smidge more grunt but this Stone's boosted bottom end makes it just that bit better, especially with the $1299 Zard pipes adding aural spice to the standard $15,990 package.