Jacqui Madelin talks to an enthusiastic Kiwi who found love with an ageing Pom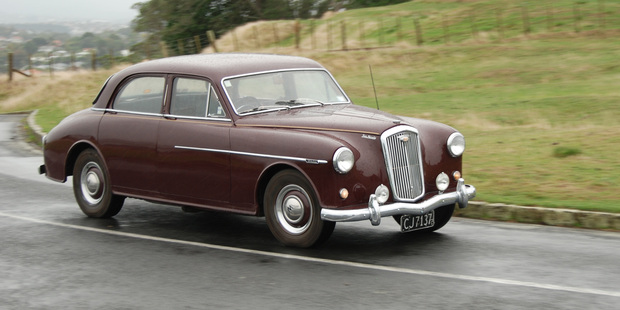 It's hard not to feel enthusiastic chatting to Martin Lafferty. He's enthused about lots of things, particularly engineering, electronics and cars or motorbikes, and he's a fund of interesting stories.
The Wellington-born man left school at 15 and worked for the state hydro department, then left for England at 21 and lived there mostly since, returning only recently to Auckland, now an engineer specialising in broadcasting software. He was met by this 1958 Wolseley 6/90 Series III, bought online two years ago, and I'm trying to find out more, but he's talking about the Toyota Cressida poppet valves used in a bike he helped a friend make.
Back to the Wolseley. "I've always liked them. I was in England and a friend emailed me and said there's this great 6/90 on Trade Me. I looked at it, liked it and bought it. The owner had had it almost from new. I took it on trust and it wasn't a bargain, but it's as good a 6/90 as you'll find and I'd drive it when I was over here."
Why this model? "I liked the look of it. I don't know why I'm attached to BMC cars.
I had a 6/99 I bought for $150 from somewhere under a hedge, blew it up and rebuilt it. They look great, designed by Gerald Palmer, the last in-house designer at the Nuffield premises. Mk II Jags are too flash but this is just perfect."
Wolseley was a British company founded by the Vickers armaments combine in 1901 and, for a time, was the biggest car manufacturer in Britain. But too-rapid expansion led to receivership and purchase by William Morris, and after World War II it came under the British Motor Corporation, British Motor Holdings and British Leyland before the brand expired in 1975. The 6/90 was built from 1954 to 1959 as the flagship car: "It's one of the last Nuffield cars to be chassis-built, the body bolts on to it though it's all made by Nuffield." It's often seen as the last true Wolseley. The Series II used leaf springs on the rear and moved the gear lever from the steering column to the floor, on the right; this Series III included bigger power brakes.
The motor's a 2.6-litre BMC C-Series with four-speed manual and it's well appointed for the time. I love the Trico vacuum-operated windscreen washers. Push the little button and it sucks disconcertingly on your finger, then, some time later, when you've forgotten about it, it squirts water at the screen.
It has a heater, carpets, leather upholstery and a radio - all pretty flash for 1958 and all still working, as are the self-cancelling trafficators which pop out from the B-pillars to indicate a turn. The key for the lockable glovebox came from a 6/90 Martin used to own - "BU824, if anyone knows where it is let me know!" - but it fits this one. The car's largely original bar the paint - it was once black - and the British Leyland seatbelts, and it would do 160km/h "if you caned it" so it'll easily manage our open road speeds, sitting in fourth from about 50km/h up. Despite no side mirrors it's a doddle to drive in town once I get used to it, there's good all-round visibility except directly to the rear thanks to the down-sloping boot.
There's no synchro into first so I keep stuffing that gear change, which Martin laughs off, though he may dive under the car the moment I leave. But the much maligned lack of power steering isn't a problem because of the huge hoop of steering wheel and I quickly get used to the gear lever being by my right hip - putting it there took 90 separate parts, "It's amazing! The oddest thing about the car," says Martin, pulling out a diagram.
He did Auckland to Wellington on the Great British Car Rally in it, and it's his only car here, now with 92,000km on the clock.
"It drives really well, it's comfortable, and the little badge on the radiator grille glows when you turn the lights on." It does too.
The car's packed with character - I can see why he loves it.