The Cross-country Champs are still wide open, says Andy McGechan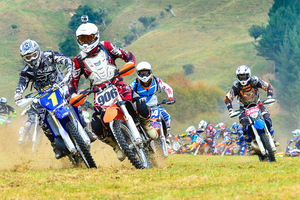 This season's New Zealand Cross-country Championships are evenly poised at the halfway stage, although defending champion Adrian Smith has plans to tilt things his way this weekend.
The third round of four in the KTM-sponsored series is set for rugged farmland just outside Christchurch on Sunday and Mokau's Smith (Yamaha) is hoping momentum will favour him after he won the previous round near Inglewood last month.
But Smith won't be taking anything for granted - he was stunned by the pace of Raglan teenager Jason Dickey (Kawasaki) at the opening round in Southland in February and quickly realised he could not afford to rest on his laurels.
Dickey beat BikesportNZ.com rider Smith to the finish line at Te Anau by nearly five minutes, with Te Awamutu's Mark Penny (Suzuki) not far behind in third spot overall. Although Smith bounced back to win round two in Taranaki, he had his work cut out that day with Woodville's Ben Exeter (KTM) and Palmerston North's Adam Reeves (Yamaha) hounding him to the finish.
In addition to Dickey, Penny, Exeter and Reeves, there are plenty of others, too, who have the pace to cause an upset.
"The win at round two gave me a little bit of leeway now as we head to round three," Smith agreed, his two results thus far giving him a narrow lead in the overall series standings.
Competitors will discard their one worst result, however, with only three of the four rounds to count, which means Smith still needs to perform well at the track on Sunday.
"Ben Exeter is only 18 years old and so riders like him have nearly 10 years on me, but I figure I've still got a few good years left in me too," laughed the 27-year-old Smith.
Other riders likely to threaten on Sunday include Maruia's Ethan Bruce (Yamaha), Auckland's Callan May (Yamaha), Raglan's Matthew Quirke (KTM), Hamilton's Sam Brown (Honda) and Auckland's Sam Greenslade (Husqvarna).
Meanwhile, in the junior grade, it will be worth looking out for the winner at both rounds one and two, Cambridge Honda ace Taylor Rae, to continue his good form and stretch his advantage in North Canterbury on Sunday. Eketahuna's Charlie Richardson (KTM) and Marton's Ethan Breuer (Honda) should be a challenge to Rae.
The venue for this Sunday is at Davaar Road, Greta Valley. It will be signposted 7km north of Greta Valley on State Highway 1, North Canterbury. It is about 20 minutes' drive from Cheviot to the race venue.
The 90-minute junior race is set to kick off at 9.30am, with the three-hour senior race to start at about 11.30am.
The championship wraps up in Hawke's Bay on May 18.