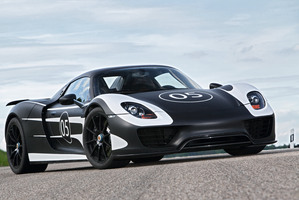 It seems Ferrari and McLaren caught Porsche short when it announced the initial specifications for the upcoming 918 Spyder.
When it originally revealed the vital numbers for its hybrid supercar, Porsche said the 918 would pack a massive 593kW of power, but then McLaren announced the specs for its P1 and handily topped Porsche with 673kW.
Not to be outdone, Ferrari then unleashed the hideous, stupidly named LaFerrari with a simply colossal 718kW of power.
So now it seems Porsche may be upping its game to catch up, if a report that it has bumped up the 918's power and shaved off more weight is to be believed.
US website www.topspeed.com is reporting that the 918's power has been upped to 652kW.
Heaven can wait, I'm busy
Epic drives are always good - especially if a good cause can benefit from them - but this has to be among the best we have heard of for some time.
Les Carvall, Alan Butler, Glyn Maher and Charles Scott are all in their 70s and have just set out on a quick drive around the world in a pair of largely standard Suzuki Jimnys.
It is just them, no support vehicles or crew and the Jimnys are standard apart from additional luggage racks, all-terrain tyres, modified springs and dampers and heavy-duty bumpers front and rear.
Carvall is the mastermind of the operation, having admired the large convoy of classic cars on the Paris to Peking Rally two years ago.
Since then he has worked at setting up the three-continent, 16-country trip, plus setting up the ''Heaven can wait, I'm busy'' charity to distribute money raised from what he likes to call ''The Ultimate Challenge''.
The adventure began on Easter Sunday and its progress will be monitored, with updates being added to the website www.heavencanwaitimbusy.com four times a day.
KTM bringing sexy back to scooters
Scooters have their place in the large scheme of things but they are not exactly manly. Or sexy, for that matter.
Throw in an electric drivetrain and they become far more frugal and worthy, but even less sexy. And manly.
But the maniacs at KTM may have the answer for all manly men who have secretly been longing for an electric scooter they could face being seen on.
The E-Speed concept scooter is pretty much everything every other scooter isn't: angular, aggressive and startlingly orange. The E-Speed brings more than a hint of the mental X-Bow ''car'' to the world of scooters.
Powered by an electric motor and battery pack developed in conjunction with its very cool off-roading big brother the KTM Freeride E - the E-Speed - pumps out a healthy (in the world of scooters, that is ... ) 11kW of power to the rear wheel via a belt drive.
But like all electric vehicles, it's about the torque, and the E-Speed is packing an impressive 36Nm of the twisty stuff, which is more than enough to punch the
E-Speed to a top speed of a little over 80km/h.
KTM says the 4.36 kilowatt-hour lithium-ion pack is good for 65km and can be fully charged in two hours when plugged into a 220-volt outlet.

The Ham drops the beats
One piece of news that slipped quietly out this week and took a bit of investigation to check whether it was an April Fools' joke was that 2008 Formula One world champion
Lewis Hamilton was working on a pop album.
Apparently the former champ has been working on the album for the past 12 months with the help of singer/songwriter/producer Angel, who has previously collaborated with Rihanna, Dizzee Rascal and Frank Ocean.
Angel told British newspaper, The Sun, that he was working with Hamilton and that his songs were ''off the hook'' and that he was ''a proper singer''.
''It's a real diversity,'' said Angel. ''He's got rap, `dirty south' kind of tunes, some massive pop records and soul records. We're doing all types of genres. We've written about 12 songs so far.''
For the record, we have no idea what ''dirty south tunes'' are either.
We are the world
*An Irish roadwork crew have been suspended for doing their job.
The three-man crew was returning from another job when they spotted a pothole and decided to stop and repair it. They were seen by a Health and Safety worker and
subsequently suspended for not filling out the proper paperwork for the pothole.
*Real police are expensive, but cardboard cutouts of them are far cheaper. And they may make people drive more safely if they are placed by the side of the road. This is the
thinking in the Indian city of Bangalore where cardboard law enforcers have just been deployed.
''It is not a gimmick,'' says traffic commissioner M.A. Saleem.
''Wherever we have put up these cutouts, violations have come down,'' he said. There is a shortage of more than 500 traffic policemen in the city.
*Tim Hopkins, of Memphis, Tennessee, died a few weeks ago. The first paragraph of his obituary is quite possibly the best ever written: ''Timothy Wayne `Tim' Hopkins, 54, went to be with our Lord and Saviour Jesus Christ and Dale Earnhardt to contribute his
building and painting expertise to the constructing of many heavenly mansions on Saturday, March 23, 2013, in Memphis.'' Build on Tim, the Lord and Dale will no doubt be
pleased to have you there building those heavenly mansions.
Number Crunching
65 PER CENT of UK motorists admit to dangerous driving during daily commute.
52 PER CENT of UK drivers said they were in too much of a hurry to drive safely.
25 PER CENT of UK motorists stopped to help another driver who had broken down.
15 PER CENT of UK motorists hoped a fellow driver would help if they broke down.