Sportier, trendier - it's a total makeover for Toyota's popular SUV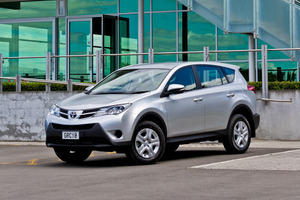 When Toyota launched the world's first compact crossover SUV, the RAV4, in New Zealand in April, 1995, auspiciously the number one song here was If you Love Me by girl group Brownstone.
And it seems that Kiwis did "love" the new style of vehicle because, by the end of last year, 17,545 RAV4s had been sold since that initial launch nearly 18 years ago, with the small SUV making up 10 per cent of Toyota NZ's annual sales.
While the vehicle remains a strong provider for the company, SUVs are now the most popular new cars sold in New Zealand, with 25,000 of the vehicles hitting the road in 2012.
And since 1995, the segment has also grown phenomenally with competitors Honda CR-V, Mazda CX-5, Nissan Qashqai, alongside Korea models Kia Sportage and Hyundai Santa Fe - plus soon-to-be launched second-generation Ford Kuga - all pushing for some of RAV4's segment dominance.
To counter the attacks, Toyota decided the RAV4 needed a total makeover, giving the vehicle a sporty, more aerodynamic exterior and - at last - moving the spare tyre from the rear door to under the boot.
That rear now gives the vehicle a strong road presence and more modern feel.
Inside the vehicle has a cockpit-like driver's area and feels roomier than before, thanks to the thinner rear door and cargo capacity sitting at 547 litres. There is increased seat height adjustment, good headroom and more rear seat space.
The new line-up has three variants: the base model 2WD GX, the 4WD GXL and high-specced, leather interior Limited.
Engines available are a 2-litre four-cylinder petrol, a 2.2-litre four-cylinder turbo diesel and a new 2.5-litre Dual VVT-i four-cylinder petrol.
Gone is the manual transmission, with the turbo diesel engine matched with a six-speed automatic transmission that has Artificial Intelligence Control (AIC) which automatically changes shift patterns in response to road conditions and driver input.
Replacing the four-speed automatic transmission is a six-speed auto with a seven-step Continuously Variable Transmission (CVT).
The RAV4 starts at $39,990 and $44,400 for the 2-litre 2WD petrol GX and GXL respectively, with the 2.5-litre AWD GX at $47,290 before the top-end diesel Limited at $62,790.
At the media presentation, Toyota NZ had Op Shop lead singer and New Zealand's Got Talent judge Jason Kerrison entertain us before he joined me the next day as my co-driver.
To show off the RAV4's off-road ability we went to Manawatu's Makoura 4WD national training centre.
Heading to the farm in the GX 2WD, Jason was impressed with the vehicle's handling, but it was off-road when we swapped into the Limited petrol 4WD that the RAV4 won his vote.
Engaging the 4WD system's Downhill Assist Control (DAC) showed the vehicle's ability to cope with steep declines in the farm that, for the first time in weeks, was experiencing rain.
While farmers were rejoicing, soon we were lamenting as the steep clay track we were supposed to drive up was too slippery for our on-road tyres. Heading back to the Makoura's lodge, Jason decided that he'd like to swap his Toyota-sponsored FJ Cruiser for a RAV4 - proving the SUV has talent.
Overriding rumours
The rumour started at last year's LA motor show that a hybrid version of the RAV4 was being produced.
Hiroyuki Hirakawa, project general manager for Asia & Oceania at Toyota, told Driven that it was just a rumour and there were no plans to produce a compact SUV hybrid.
But Toyota and Tesla Motors developed the second-generation RAV4 electric vehicle (EV) that was launched late last year for the California market.
The second generation RAV4 EV has a 115kW motor powered by a 41.8kWh lithium ion battery pack, that is expected to deliver up to 182km in extended charge mode.