Carmakers just can't help coming up with daft names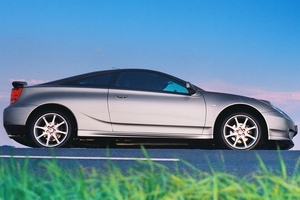 You've got to admire carmakers for trying to come up with creative names for their new models. Problem is, the freedom to be creative also means the freedom to fail. So for your reading pleasure, we submit 10 really terrible car names. Enjoy.
NISSAN FAIRLADY
Nissan's first proper sports car in the 1960s spawned a line of macho machines that evolved into the iconic 240Z and today's hairy-chested 370Z. But the original name was Fair Lady, later tweaked to Fairlady (still used in Japan).
And yes, it's exactly what you're thinking: Katsuji Kawamata, president of Nissan Motors, saw the musical My Fair Lady in 1958 and thought the name would be perfect for the company's new sports car, evoking beautiful music and the beautiful leading lady.
ANY HUMMER
Well, of course you know that the Hummer brand grew out of an American military vehicle called the High Mobility Multi-purpose Wheeled Vehicle (HMMWV).
Roadgoing versions were produced from 1992; the enthusiasm of one Arnold Schwarzenegger usually gets the credit for the Hummer's development into a mega-SUV, although maker AM General had been planning such a vehicle for some time.
There's nothing like a catchy acronym, but you have to wonder how the brand got to showroom stage without anybody raising the issue of what "hummer" means in American slang. Don't know that one? Well, if a lady or a man likes another man very much ...
DAIHATSU APPLAUSE
The name is still a legend among motoring writers: the Daihatsu Applause (1999-2000) would have been the centrepiece of a suite of bad jokes and cheesy headlines even if had been a fantastic car. It wasn't.
The Applause was perhaps ahead of its time in combining the style of a four-door sedan with the practicality of a hatchback. Perhaps. It did stay in production a very long time, but that's not necessarily a good thing - it just meant Daihatsu had no desire to replace it.
There's applause but nobody's clapping. Nothing worse than the clap. And so on.
GREAT WALL WINGLE
Domestic Chinese car names are a laugh a minute, but I like this one because it relates to a model sold in New Zealand. Great Wall Motors (GWM) knows an export sales opportunity when it sees one and decided to break into the macho world of one-tonne utes in 2009.
The company obviously did its research and decided that a Great Wall Wingle was unlikely to win the respect of the double-cab club. So the GWM ute is known as the V-series in these parts.
HOLDEN CALAIS
The Calais name has been used for luxury versions of the Holden Commodore since 1984. It's supposed to suggest an extreme level of sophistication, because it's French and everything.
Calais is a port of historic significance and also the destination for Channel ferries. So it's full of dirty containers and happens to be the place where beer-soaked Brits go to load up their cars with cheap booze for a big weekend. Just saying.
SUBARU LEGACY TOURING BRUCE
You know how big-name American actors often go to Japan and do highly paid commercials for domestic products that they hope nobody outside that country will ever see?
In 1993 Bruce Willis endorsed the then-new Subaru Legacy, which was quite a departure from the company's model line to date. That's how the special-edition Legacy Touring Bruce was born. Presumably Subaru thought having its car associated with an American action-movie hero would make it cool. The name carries slightly less sophisticated connotations in New Zealand, though. What next, the Impreza Trevor?
ISUZU MU
It could have been the Isuzu Bighorn, but that's too easy. From the Japanese light-commercial specialist we bring you the MU, a three-door SUV sold from 1989-2004. The acronym stood for Mysterious Utility, but there was nothing mysterious about a vehicle that was based on rugged pickup truck underpinnings yet totally impractical. Bit of a cow to drive, if you know what I mean.
TOYOTA CELICA TSUNAMI
In 2004, Toyota produced a special-edition version of the Celica coupe called the GT-S Tsunami. Good name, but the timing was terrible. On December 26 that year, the most powerful earthquake in 40 years struck under the Indian Ocean. It was felt up to 2000km away and generated massive waves that killed over 220,000 people.
Toyota rapidly changed the car's badging to Celica Sports pack. Cars wearing the original name are now considered quite a find.
MITSUBISHI CARISMA
Too obvious, but we can't resist. The Mitsubishi Carisma (1995-2004) was an ill-fated joint venture with Volvo to build a mid-size car that would enable the Japanese maker to break into the lucrative European fleet car market. For that reason, Carisma was deliberately conservative in almost every respect. So no, it didn't have any.
NISSAN TIIDA
What is it with Japanese carmakers and moving water? Celica Tsunami, Mazda had a design language inspired by 'flow' for a while, and then there's the Nissan Tiida (2004-12). Loosely translated, Tiida means "movement of the tide" and was supposed to represent how Nissan's small car had brought different genres and cultures (it was a product of the Nissan-Renault alliance) together. In reality, it was unremarkable and unsexy, a situation made worse as Nissan Australia employed Sex and the City star Kim Cattrall to advertise it.
While the Tiida name is still used in many global markets, Nissan folk in New Zealand and Australia have decided that the tide of public opinion might move more favourably towards the brand's showrooms if the new 2013 model returned to the popular Pulsar name. Tiida: it could have been worse. It might have been inspired by a show tune.