NZ's Skippers Canyon a breeze against some roads.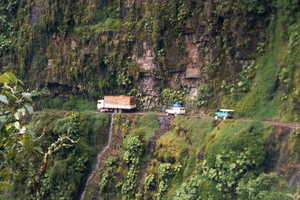 Some guidebooks reckon the Skippers Canyon Road near Queenstown is one of the world's most dangerous.
Miners carved it along a sheer cliff face in the 19th century and it's fair to assume the pioneers never envisaged that it would one day become a tourist road, or that anyone in a campervan would be crazy enough to even think about trying to drive it.
Some might say most of our roads are among the world's most dangerous. How about the Parapara Scenic Highway to Wanganui on a wet winter's day; State Highway 38 through Te Urewera National Park; State Highway 2 near Maramarua; any road near a pub after closing?
But our "worst" are pussycats compared with some of the world's really worst roads.
For example:
The Death Road (Bolivia)
This road's claimed wickedness has official endorsement; in 1995 the Inter-American Development Bank actually named it as the "world's most dangerous road".
Its real name is the North Yungas Road, a 65km stretch from Bolivia's capital of La Paz to Coroico in the Amazon region.
Estimates of its body count vary, but an annual toll of 200-300 is considered realistic. No wonder a bypass was opened in 2006, although the original remains ... and attracts growing numbers of extreme adventurers, particularly cyclists, who ride it for the thrill.
Arica to Iquique Road (Chile)
It's sort of a Chilean Skippers, only many of its drivers seem to think it's a racetrack. Not to worry, travellers can take their minds off possible impending peril by spotting vehicle wrecks at the bottom of the valley.
Siberian Road to Yakutsk (Russia)
The Russian Federal Highway goes to Yakutsk, which holds the honour of having the coldest temperature ever recorded outside Antarctica.
During the 10-month winter, driving in and out of Yakutsk is a battle against snow, ice, and little or no visibility. So just drive it in July and August, then? It's no good then either, because the surface is not sealed and becomes one long mud drag.
Traffic jams are a way of life, sometimes creating 1000-vehicle backups. The surface is not sealed and in summer the road becomes one long mud drag.
Notes one travel guide: "Travellers might pass the time while stuck in Siberian traffic by looting, beating and kidnapping other travellers." Apparently they're known as the Siberian mud pirates.
Sichuan-Tibet Highway (China)
This high-elevation road between Chengdu and Tibet, where landslides and rock avalanches are common, has played a significant part in China's poor record for road deaths.
The 2412km-long highway traverses 14 mountains which average 4000-5000m, spans dozens of rivers, crosses dense forest and has numerous other dangerous sections. Survivors tell of spectacular views.
A682 road (England)
England's "worst road" has claimed almost 100 lives during the past 10 years. It runs between junction 13 of the M65 and Long Preston in North Yorkshire. Despite that, it's a favourite road for motorcyclists, especially early on a Sunday morning.
James Dalton Highway (Alaska)
The Dalton, made famous by the Ice Road Truckers television series, is a 666km gravel road servicing the oil and gas industry at Prudhoe Bay on the northern edge of Alaska.
Apart from snow and ice, hazards on the slippery road include huge trucks, mud, thick clouds of dust that eliminate visibility, rocks that shatter windscreens, and giant potholes.
A guidebook cautions: "Don't even consider driving the Dalton unless you have four-wheel-drive, a CB radio, extra fuel, food, tyres, and a boot filled with supplies."
So it's sort of like driving in the Australian Outback, but much, much colder.
Patiopoulo-Perdikaki Road (Greece)
The narrow and busy dirt track stretches from, well ... Patiopoulo to Perdikaki. Peppered with huge potholes, the gravelled surface offers little grip for vehicles.
Sheer cliffs on either side, with no guard rails, make the road more ... interesting. It is used by pedestrians, livestock and trucks, buses and cars and claims many of them each year.
Trollstigen (Norway)
A mountain road in Rauma, Trollstigen is popular with adventurous tourists due to a steep 9 per cent incline and tight hairpin bends up a steep mountainside.
Because of its many sharp bends, vehicles over 12.4m long are prohibited. Great views, including the 320m Stigfossen waterfall, await those who make it to the top.
Karakoram Highway (Pakistan-China)
The highest paved international road in the world, the KKH, as it's known to locals, connects China and Pakistan through the Khunjerab Pass, at a height of 4693m.
Despite its dangers this road has also become a popular tourist attraction.
Known as the Friendship Highway in China, the road was completed in 1979 after some 810 Pakistanis and 200 Chinese workers lost their lives, mostly in landslides and falls.
Transfagarasan (Romania)
The second-highest paved road in Romania was built as a strategic military route, its 90km of twists and turns across the tallest sections of the Southern Carpathians making it both dangerous and a delight.
The Top Gear television programme, for one, described it not as a horror road, but one of the world's best.
One person's horror road, it seems, may be another's playground.