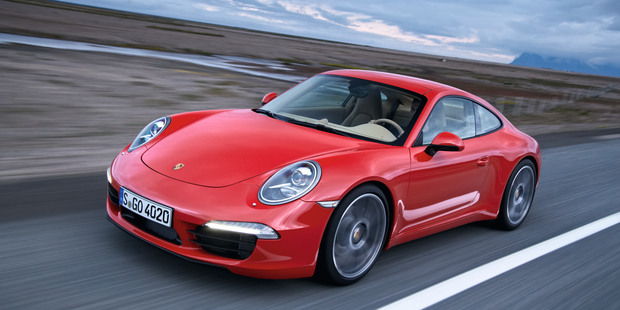 Buying a Porsche 911 is right up there with the Harley Davidson and hair transplant as the most cliched mid-life crisis statement. I'm referring to my own 911 purchase.
Although that was for an investigation into avoiding depreciation and nothing at all to do with my reaching a point where hairline and waistline unite to mock me, it does mean I have some small insight into the enduring attraction of the car.
Since its introduction in 1963, the 911 has demonstrated remarkable longevity, with 70 per cent of all the 911s still gracing the roads today. So is this longevity simply down to exemplary build standards?
The 911 has always been very well put together, yet casual journalistic overuse of the phrase "bulletproof 911 build quality" has resulted in unrealistic expectations and some painful owner anguish over unexpected five-figure bills for engine re-builds.
No, the reason for extended 911 life-spans seems as much psychological as physical. Very early on, through marketing genius or sheer good luck, Porsche decided to give the 911 two identifying names.
First, was the model number, such as 993 or 996, changing as models were replaced.
Much more important was the name 911, which never changed, and which was how the world, largely unaware of model changes, saw them all.
This dual identity allowed Porsche to develop and refine the concept without losing that vital identity of its iconic status.
Preserving that status is like juggling fresh eggs - one mistake and it's all gone. James Dean, Marilyn Monroe and the E-Type remain icons because they're dead so can't trash their reputations.
MG, on the other hand, allowed those two letters to be sold on for a great deal of yuan, but at what cost to the name?
Porsche has been criticised for being excessively conservative in developing the 911. Some have suggested the launch of its sixth generation reveals the icon, like its stereotypical owner, is suffering a crisis of confidence.
When the coupe version of the new 911 ( the 991) was released, a few reviewers were less than reverential. There was some feeling that it might have lost that edgy aggression of youth. Porsche no longer placed handling feel at the top of the list. Some said it had gone a bit too GT.
Perhaps mindful of this, when the 991 Cabriolet was released recently, Porsche UK took 10 journalists and 10 new 991s to Thruxton race circuit. They brought the entire team of track driving instructors from the Porsche experience centre to help them get the very best out of the cars. What did we think? Well, facts first, driving impressions later.
It is a mere 6cm longer than the old model, but the 10cm increase in wheelbase and huge 20-inch wheels make it look significantly bigger. Generous use of aluminium in the body, and exotic metals anywhere else, has shaved 60kg off the Cabriolet's weight, and made the whole shell noticeably more rigid.
The engine is a new design, with power up to 260kW even though the size has dropped from 3.6 to 3.4 litres - neatly preparing for an increase in engine size and even more power at the next makeover.
It comes with the world's first seven-speed manual gearbox which, despite a light, positive change, seemed reluctant to shift from seventh to fifth without slotting into third, instead. Perhaps I'm just clumsy.
The paddle shift PDK auto-box, on the other hand, is Porsche's best yet. Eco mode seems uncharacteristically pedestrian, but will be fine for picking up the paper on a Sunday morning.
Sport Plus is designed for the track, and will keep your pulse racing, but Sport is perfectly balanced for fast road use, and always leaves you feeling in control.
The PDK box also has optional stop-start and coasting functions, which save thimblesful of fuel and are an expensive, complex nod at eco-correctness. Leave them turned off.
The interior takes its styling queues from the Panamera. It feels spacious, refined and sumptuous. If you like the Panamera you'll love the 991.
One of the most unusual developments is that the Bose stereo competes for your aural attention with the Sound Symposer, which pipes the engine noise into the cabin.
I can't mock that idea because I'm completely sold on it - particularly as in this latest incarnation Porsche seem to have followed the supercar trend for exhausts tuned for sound rather than just performance.
Negatives? Well, the electronic handbrake confused and irritated me, and the electric motor to adjust the steering column seemed a ludicrous complication. Apart from that, the cabin is a very nice place to be.
The 911's raison d'etre is neither the smell of the leather nor the quality of its sound system, but rather how it feels as you pour it round a track or ease it along a favourite B-road. Let's deal with that electric steering first.
When a 991 is being hustled around the track on the limit, that steering is talking to your fingertips as much as in any previous model. Your senses feel every nuance of the road surface.
A wider front track helps the wheels grip at speeds you simply wouldn't credit. If you have even a trace of self-preservation you will not find its limits. Nearly 50 years of developing the car have allowed Porsche to bend the laws of physics that want to make that rear engine pull you backwards into the nearest ditch.
Mid-life crisis? What mid-life crisis? This 911 is simply a better car than its predecessor.
- Independent