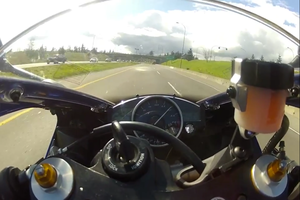 A Canadian motorcyclist has broken the stupidity barrier by posting a video online of himself cutting through motorway traffic at close to 300km/h.
The Vancouver biker, on what appears to be Yamaha's ultra-quick R1 superbike, makes cars on the Victoria Highway seem like they're standing still as he carves up commuters for his video - which has already drawn the attention of police.
Local media has reported that Vancouver Island police are trying to track down the rider - who will potentially be prosecuted on his own evidence.
YouTube boasts have become a great source of evidence for authorities in recent years - one clever chap managed to lose his licence and his wildly expensive Aston Martin V12 Vantage Carbon Black limited edition by driving on a Belgian motorway at 292km/h.
- NZ HERALD STAFF