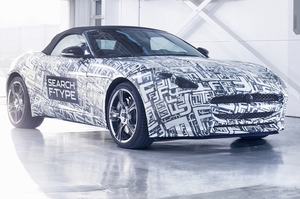 The stunning Jaguar C-X16 concept has got a name and a production date.
At a press conference at the New York motor show, Jaguar's brand boss Adrian Hallmark announced the F-Type will go into production and be showroom-ready next year.
"We showed the C-X16 concept in September 2011," said Hallmark, "and the reaction to it has been so positive that we've accelerated our development of an all-new Jaguar sports car.
"That car will be called the F-Type, and it will be unveiled in production form later this year. The core appeal of Jaguar's cars is their sporting heart, and that heart will beat stronger than ever before in the F-Type."
All of this motor show-friendly speechmaking boils down to one thing - the Jaguar of old is well and truly back. It's got strong products in the XF (including its new diesel variants), the XJ and the XK.
A press release from the company this morning said that full spec and production details will be revealed later this year, but noted that there'd be a full range of petrol engines "including a new powerplant family."
This is likely to see the smaller F-Type, which will be made in both convertible and a strict two seater, powered by a lower-displacement engine with some sort of forced induction, capitalising on lightweight aluminium construction on the use of composite materials both inside and out.
The PR spiel is very keen to underline that it will "focus uncompromisingly on delivering driver reward", and draws parallels between the F-Type and the icon C, D and E-Type cars that the brand was built on.