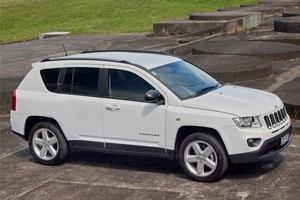 It took the Japanese and the Europeans, in particular the Germans, to teach Detroit the art of fit and finish, and how to design small cars.
Today in New Zealand, the Jeep Compass provides a checklist for what the American industry has learned.
Some might say that's not very much, but could Driven be so cynical?
America's first modern small cars, the Ford Pinto and Chevy Vega, were lacklustre in almost every area.
Gradually, goaded by rapidly increasing sales of Japanese and European cars in home territory, Detroit tried to get its act together.
By the late 1990s, when the Dodge Neon compact arrived here, badged as a Chrysler, it was clear that Detroit had not done well.
The Neon was carelessly finished and mechanically dreary compared with the cars from Japan and mainland Europe.
A decade later, Jeep decided to capitalise on its brand for the mass market with small, cheap vehicles that had only a vague connection to the make's rich off-road heritage.
The original Compass was one of those and, after it arrived in New Zealand in 2007, became notable for one thing; an inability to sell.
It did, however, show progress was being made. The 2.3-litre 125kW engine was quite good, the CVT automatic transmission was quite good, ditto the fit and finish; light years ahead of the Chrysler group's first modern small cars, the Dodge Omni and Plymouth Horizon.
Glass-half-empty people noted that its engine was developed by the Global Engine Alliance, a joint venture of Chrysler and Mitsubishi; the CVT was by Jatco of Japan; and the car's platform was one shared by DaimlerChrysler and Mitsubishi.
In other words, examples of what seemed to be Chrysler's in-house credo: if you can't beat them, borrow from them.
Compass also showed Detroit failed to understand that small car interiors didn't have to look cheap. If others could use nice soft-touch, tactile plastics for their econo-car interiors, why couldn't the Americans?
It also showed confused thinking at Chrysler and its Jeep division. The Compass's strange exterior styling mocked the "real" Jeeps. What possessed the company to sign off the odd look that began with Jeep's "traditional" grille but quickly deteriorated into confused lines?
We now have a facelifted Compass and it shows positive progress. The odd lines are still there, but a handsome new nose, closely resembling that of the current Grand Cherokee, seems to tie them together somewhat better.
The interior has had a major remake and rethink. Gone are most of the hard plastics and edges that suggested you must be down to your last dime to buy a Compass.
The ride and handling of the original weren't bad, but the 2012 is better, apparently the result of fiddling with the suspension rather than major redesign. It's a $43,990 crossover that you might actually consider as an alternative to a Mitsubishi Outlander or Nissan X-Trail.