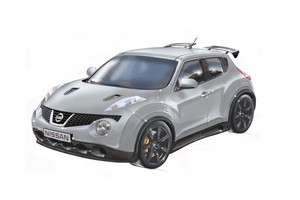 Nissan is developing a "super crossover", combining the running-gear from the GT-R supercar with the bodyshell of its Juke mini-SUV to create the Juke-R.
Under the bonnet will be the GT-R's 3.8-litre twin-turbo V6, which delivers 390kW of power and 612Nm of torque, enough to accelerate from 0-100km/h in three seconds. That spring time may come down further in the smaller Juke-R.
The GT-R's six-speed transaxle will be mounted underneath the concept car's boot floor. Project engineers will also ditch the Juke's regular four-wheel-drive system in favour of the GT-R's all-paw driveline, which sends power to 20-inch forged-alloy wheels.
Performance changes to the exterior include flared wheel arches, more aggressive black-finished front and rear bumpers, and a wild, racing-inspired split rear wing.
The Juke's regular dashboard will be transformed to accommodate the gauges, dials and seven-inch customisable LCD display from the GT-R.
The cabin will also be kitted out with a pair of racing seats with five-point harnesses and a roll cage, helping the car meet FIA safety requirements.
Nissan says it will use the one-off, road-legal concept car - which it calls the "fastest, most exciting and daring compact crossover in the world" - to gauge public reaction to a sporty Juke variant.
Nissan Europe's general manager for crossovers and sports vehicles, Darren Cox, said his department was given just 22 weeks to fulfil the brief of creating "a supercar crossover that packs the performance of a GT-R into the Juke platform".
"We're a very innovative company and we just like doing crazy stuff like this," he said. "You look at our history and there's many, many examples of Nissan engineers really driving forward the business."
The Juke concept is being built at former racer Ray Mallock's RML engineering company, with input from the Nissan Technical Centre for Europe.
RML helped Nissan take out the British Touring Car Championship in 1998 and 1999 with its Primera racing car.
RML lead engineer Chris Horton said the biggest challenge will be finding space for the driver at the front and room for the transmission in the rear.
"Because we're going to be removing the entire floor-plan (of the Juke), we're literally going to be building it from the ground up," said Horton. "It all adds up to a major piece of work."
Nissan Europe said the Juke-R is expected to complete its first tests next month.
The garden-variety Juke has been a sales hit across Europe, with more than 100,000 units sold there in its first year.
Despite the car's dynamic looks, the flagship engine for the range is a turbocharged 1.6-litre petrol engine with a respectable 140kW and 240Nm.
The standard Juke will go on sale in New Zealand next year.