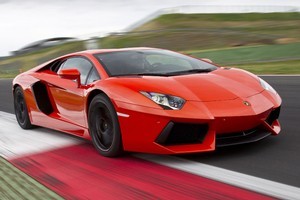 The inconvenient truth for most motoring journalists is that few are in the position to properly assess a supercar. Most can't afford one so don't understand the buyer mindset, and so many lack the skills and experience to really tell you what it's like to pilot a specialist 350km/h machine on the edge. Including me.
Are the reports more or less credible when they come from a racetrack? On the plus side, it's a safe environment and you can actually push the scary monster about a bit without worrying about hitting something small, white and Japanese coming the other way.
On the downside, smooth, wide racetracks are not at all like roads and therefore not terribly illuminating in terms of evaluation. And the temptation to engage in pseudo-heroic activity when you only have a few laps allocated could easily end in tears.
And so to the launch of the all-new $650,000 Lamborghini Aventador V12: the largest, fastest and most intimidating model produced by the legendary Italian (well, it's owned by Audi) supercar maker.
We're at Sepang, the Malaysian Formula One circuit near Kuala Lumpur. There's no introduction to the car save a short audio-visual presentation, so it's straight out on to the circuit for just two-and-a-half laps. That's it.
Oh, I forgot to mention the Aventador (replacement for the Murcielago) packs 515kW/690Nm yet weighs just 1575kg (less than a Toyota Camry Hybrid) thanks to a full carbon-fibre monocoque chassis. If you accelerate from 0-100km/h, it takes just 2.9sec and you'll experience a genuine 1 g of force.
To save you skipping to the last paragraph, it all ends happily. But what a ride. I've driven the Aventador's predecessor, the Murcielago, and the new car is no less intimidating to slide into. The doors open upwards (of course) and you drop straight into a driver's seat engulfed by a cockpit-style dashboard and huge centre console. The cockpit theme extends to the keyless starter: it's under a fighter jet-inspired cover that you flick open to reveal a red button. Actually, that's a gimmick too far, but we'll let it pass when it gives you a direct line of communication to the 6.5-litre V12 engine riding right behind your ears.
The Aventador is much less intimidating to drive than the Murcielago, though. It's state-of-the-art - carbon-fibre construction, F1-like pushrod suspension, carbon-ceramic brakes - but also delightfully simple in some respects. The V12 engine is completely new but remains naturally aspirated and even eschews direct injection. Who needs it? The new powerplant is more powerful, yet 20 per cent more economical than the previous V12. The current trend in performance cars is for dual-clutch gearboxes but the Aventador retains a robotised single-clutch unit - 30kg lighter than a DSG-type transmission, yet still capable of shifting in 50 milliseconds.
We're off on to the track. The main dashboard display is virtual - there are dials but they're actually high-res graphics, so the big thing is not to get sucked into a PlayStation mindset when you're travelling at a real-world 200km/h. We've been instructed to change up at 5500rpm and leave the car in sanitised Strada (road) mode, rather than selecting Sport or Corsa. I ignore the former instruction and flirt with Sport oh so briefly - if only because Strada introduces more understeer into the car for safety and the gear changes are softer. The effects of both are exaggerated greatly on the track.
The track? Never been here before, no idea where I'm going. It's a sprawling 5.5km circuit and I soon give up trying to play racing driver. The power delivery is simply sensational. In this age of downsizing, let's not forget that a V12 has no equal for the outrageous elasticity of its torque - there's just a seamless wave of power from 1500rpm. No thought that you'll get anything other than ferocious acceleration from low revs in top gear.
It sounds truly track-worthy from the outside, but inside the soundtrack is almost muted. I would have liked a bit more spine-tingling V12 sensation behind the wheel, but who's to say Lamborghini is not right in toning things down a tad for those who want to live with the car? It's not exactly dull.
The grip is phenomenal, but what's really remarkable is how nimble this 4.8m rocketship is. It's partly the weight-saving, partly the racing-car suspension, but absolutely anybody will be able to appreciate how this car dances through corners - not like a supercar, more like a sports car.
How to sum up the Aventador? I'll try and sound expert: It's everything you'd expect of a flagship Lamborghini in terms of image, driving experience and a sense of the surreal, yet is also engineered exquisitely and is even a bit sensible in places. Little wonder there's an 18-month waiting list. Does "restrained excess" make sense?